Canada World Strength: No Strongman Contest in 2010
Canada World Strength had publicly stated that it would only hold another big strongman contest in 2010 if a major sponsor could be located within a specified timeframe, and today Canada World Strength announced that because the required sponsor has not been located, it will not be holding another major strongman contest next year.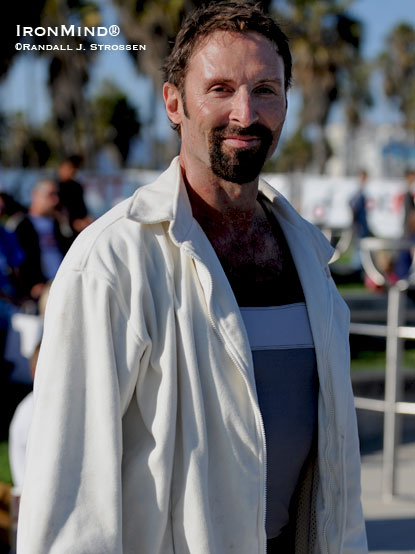 Quite rightly, Quebec is in the spotlight when the subject of Canadian strength athletes is raised, but let's not forget that talent in the Canadian strength world spans the country. Tom Magee, who stopped by Venice Beach for the recent dotFIT World Strongman Super Series contest, hailed from Winnipeg, Manitoba and he was a huge factor in the strength world in an era that produced the biggest names in strongman . . . the days when the ground trembled under the feet of such men as Bill Kazmaier, Jon Pall Sigmarsson and Geoff Capes. IronMind® | Randall J. Strossen photo.


Canada World Strength had sponsored a major strongman contest in Montmagny, Quebec earlier this year, only to later face unrestrained public criticism from a disgruntled former board member who created a whirlwind of charges related primarily to financial mismanagement - charges which, in IronMind's understanding, were subsequently deemed unwarranted.

In its formal statement, Canada World Strength noted, "Since the precondition for the holding of a third edition resided mainly in the arrival of a major sponsor by early December and that this condition has not been reached, the organizers have no choice but to [suspend] the 2010 edition.
"The Board, however, does not abandon the idea of holding a third edition in 2011. Until then, the organization will have time to recruit new members, to join a major sponsor and to hire a project manager. This delay will allow administrators to review the whole structure of the event and make any necessary improvements.

"Moreover, if an event should be held in 2011, important support from experts in the strength world is already ensured," continued the statement.


Quebec has a rich cultural tradition in the strength world, and as evidence of both its commitment and success to date, Canada World Strength provided the financial means and municipal support for a strongman contest that literally rose from a field to international prominence in its short two-year history.