Canada Will Host 2011 Strongman Champions League Semi-Finals
The Strongman Champions League just signed up a new deal for several years to organize, produce and expand the SCL further in Canada in cooperation with a new company, named Strongman Champions League Canada Inc.," SCL's Marcel Mostert told IronMind today.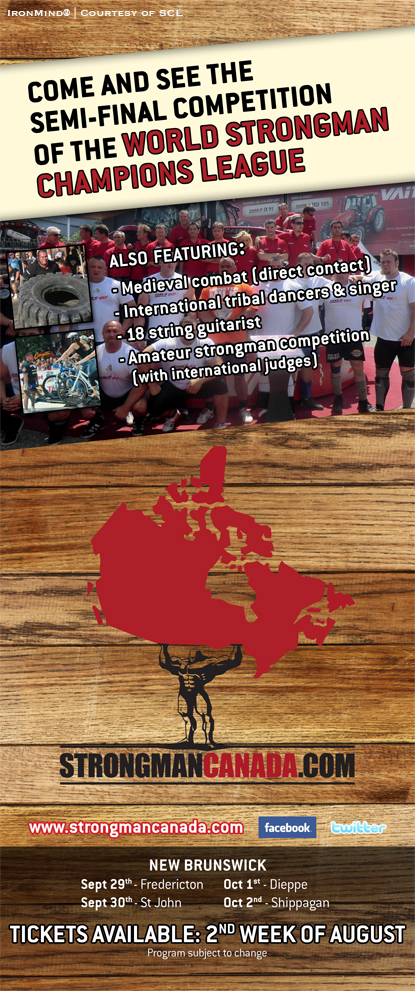 New Brunswick, Canada will host a four-city tour of strongman contest culminating in the 2011 Strongman Champions League Semi-Finals. IronMind® | Courtesy of SCL.


"We are proud on our cooperation with some really professional people in Canada who made this possible with us. After a lot of discussion and brain storming for the future, we decided all together that it will be big already at the end of September this year, as we start with the semi-finals SCL," said Mostert.

With US$32,000 in prize money, this will be the richest SCL contest to date and the top ten finishers will get double SCL points toward the overall season standings, plus the top five will go directly to the 2011 SCL Finals in the Ukraine in December. Mostert said that invitations to athletes would be based on SCL rankings, with a few wildcards.

Featuring 16 strongman competitors and ten events in total, there will be four consecutive days of competition, each in a different city in New Brunswick, with the finals in this series to be held in Shippagan on October 2:

• Fredericton, September 29, from 6–10 p.m.
• St. John, September 30, 6–10 p.m.
• Dieppe, October 1, 1–6 p.m.

• Shippagan, October 2, 1–6 p.m.

Touting "special, beautiful gifts for all athletes, entertainment, showgirls, amateur strongman, and dancing," along with worldwide broadcasting in 59 countries, SCL is ramping up its pacesetting program once again.

Conveying a sense of the energy and excitement surrounding this event, the Canadian organizers set the stage with this statement about strongman: "They are crazy strong, they are huge and they love to impress a good cheering crowd," and summarize the program as follows:

"Each event will begin with an amateur strongman competition (registration required), followed by several cultural, family‐friendly presentations, including a full medieval combat show (with contact), a group of international tribal performers (song and dance) and a 18-string guitarist. Finally, after an introductory ceremony, the main event will feature strongmen from all over the world."

For more information, please visit the official website, and check IronMind for updates as well.


###

IronMind Forum: talk strength, discuss this story. Strongman, grip, Highland Games, Olympic lifting, stones and more.

You can also follow IronMind on Twitter.