Callander: The Past, Present and Future of Strongman
IFSA founder Dr. Douglas Edmunds makes no bones about it: He calls Callander "the birthplace" of modern strongman, and he points to the long procession of greats who have come through this Scottish town.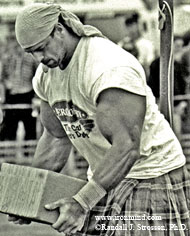 Manfred Hoeberl on his way to victory at the 1994 European Muscle Power Championships (Callander, Scotland). IronMind® | Randall J. Strossen, Ph.D. photo.

Sigmarsson, Kazmaier, Ver Magnusson, Ahola . . . . the list goes on and on: Nearly every great strongman in the last quarter century has competed at Callander, Dr. Edmunds said. "They all came through Callendar, through the Highland Games . . . it's a great Scottish tradition."

And this weekend continued down the same path, Dr.Edmunds said, with Geoff Dolan notching up an impressive overall victory and the new Russian phenom, Mikhael Koklyaev, making a big splash.

Mikhael Koklyaev became "one of the first to lift the 180-kg Alba Stone," Dr. Edmunds said, and "he astonished us all by throwing the 56-pound weight over 17 feet on his first attempt . . . of course dressed in the kilt."