CL Portugal: Zydrunas Savickas Crushes the Field
"In a fully packed arena with 4-5,000 fans, 28 degrees heat and great atmosphere, Zydrunas Savickas showed his absolute supremacy again . . . he crushed the field in SCL Portugal," Marcel Mostert reported to IronMind.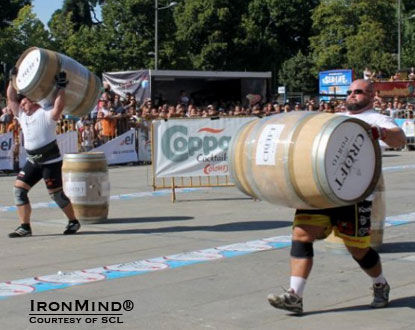 Jarno Hams (left) and Warrick Brant in the Wine Barrel Race. IronMind® | Courtesy of SCL.


Savickas won four out of the six events to take the title at the Coppa Cocktails SCL PORTUGAL. Ervin Katona edged out Terry Hollands by one-half point to take second place. Laurence Shahlaei had to retire from the competition "due to a light shoulder injury," Mostert said.

"A special event in this competition was of course the wine barrel race, a trademark from Portugal as it is famous for its wine.

"However, insiders there told me that all port is produced by British companies in Portugal but even the original idea of making port came from the Dutch people earlier in the 18th century.

"But these barrels were not filled with port, but 100 kg of sand, and very hard to pick up because of its size. It was a very nice event to watch," Mostert said.

Here are the top six, officially, in SCL Portugal:

1. Zydrunas Savickas
2. Ervin Katona
3. Terry Hollands
4. Warrick Brant
5. Jarno Hams
6. Sandro Eusébio

"Our next stage of the Strongman Champions League will be at 11 August in Finland," Mostert said. "Misha Koklyaeav, Zydrunas Savickas and Ervin Katona will be at present as well there with a total of 12 competitors."


###

The IronMind Forum: discuss this article, talk strength, get help with your training.

You can also follow IronMind on Twitter.