CCSF Presents Pleasanton 2013
For nearly a century and a half, the Caledonian Club of San Francisco (CCSF) has been running its Scottish Highland Gathering and Games—the longstanding host of one of the world's top Highland Games heavy events competitions—and CCSF Athletic Director Steve Conway sets the stage for Pleasanton, California this year.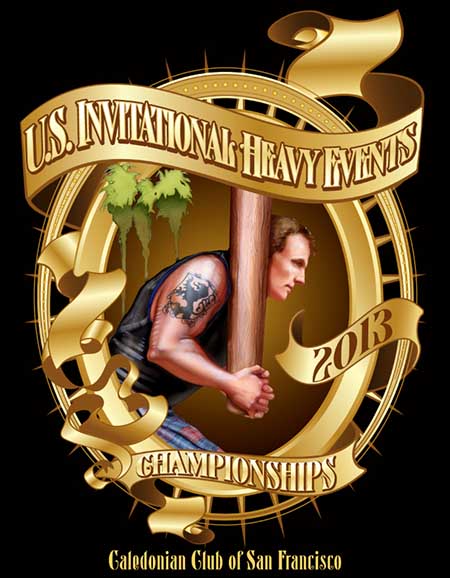 Here's an advance look at this year's game shirt—another collectible by all appearances. IronMind® | Artwork courtesy of Steve Conway/CCSF.



Pleasanton 2013
by Steve Conway, CCSF Athletic Director


It looks like it's shaping up to be another great year at the CCSF Gathering and Games in Pleasanton—this year will be the 148th Annual, making it one of the oldest, continual events in the U.S.

The pro class is loaded with talent and judging by the results so far this year we have a number of athletes that will be in the mix for the title of U.S. Invitational Heavy Events Champion. 2012 World Champion Matt Vincent has been trading off victories all year with last year's U.S. Champion and Pleasanton favorite Dan McKim and with his brother Andy Vincent. Andy is a relative newcomer to highland games but as a former top level pro strongman and NFL player, he has learned fast.

Weight for height world record holder Mike Zolkiewicz is primed to push the bar higher this year; he loves to respond to the crowd at Pleasanton. The stone putting events will be fun to watch with two athletes in the comp that are members of an elite group of throwers that has surpassed 60' in the open stone. Matt Vincent has tied the great Brian Oldfield's record and Great Britain's Scott Rider has represented his country at the Commonwealth Games; also in that battle will be former world stone putt champion Rusty Price, Canada's top tone putter and record holder Matt Doherty and Jon O'Neil, a veteran of the U.S. Olympic trials.

Two of Scotland's top throwers Craig Sinclair and Sinclair Patience will surely show why this is called Scottish Heavy Events; they excel in the hammer throws and caber. New pros Nathan Burchett, last year's U.S. Amateur Champion and former powerlifter Jake Sullivan will try hard to make their mark in this stellar group of world class athletes.

This year's Women's Open Class is in my estimation the best to ever take the field at Pleasanton and that is a tall statement indeed considering the caliber of women athletes competing here over the past years.

We're thrilled to see the return of former World Champion Summer Pierson, Summer is the record holder in the discus for Stanford University and has competed in the U.S. Olympic Trials in that event. Current World Champion Adriane Wilson is also a veteran of the U.S. Olympic Trials but her specialty is the shotput which makes her the woman to beat in the stone putting events. Kate Burton, the 2012 U.S. Champion and world record holder in the 28 lbs. wt. for distance will have to battle them as well as newcomer Danielle Curry and Pro strongwoman Kristy Scott if she wants to keep her Pleasanton title. Kristy just broke the world record in the weight for height, maybe the great competitive atmosphere will push her to a new record. Veterans Beth Burton, Heather MacDonald, Bethany Owen and Shannon Popp as well as newcomer Stephanie Robbins round out this fantastic group of women athletes, this should be one for the record books.

You'll also see a great competition in the Men's Amateur Class with top athletes, Adam Brezina, Duncan McCallum, Isaac Burchett, Scott Hutchison and Jeff Kaste to name a few. Making his debut at Pleasanton will be another 60' stone putter, Nick Kahanic from N.Y., look for him to be in the top group at the end of the weekend. They may be the biggest group on the field with three of them topping 6'6".

The Masters in both the Men's and the Women's classes are set for another great year. Last year's U.S. Women's Champion Mona Malec from New Mexico will try to keep that title away from multi time Champion Karyn Dallimore from Canada. Former Pro throwers Ken Lowther and Dave Brown will have their hands full with a talented group in the 40-49 class while Pleasanton U.S. Champion Kel Mulrey will hold court in the 50+ class; he'll have to contend with Richard Campbell, Mark Buchanan, John McClure, Dennis Schultz and the Saunders brothers, Roger and Paul plus rumor also has it that six time World Heavyweight Champion Arm Wrestler Jay Lyttle may be gracing the field once again.

#

Want to talk strength? Join the IronMind Forum.

You can also follow IronMind on Twitter and on Facebook.