Bus Pull: Jarno Hams Breaks Guinness World Record
"Ervin Katona, Tomi Lotta, Jarno Hams, Ilkka [Kinnunen] and I travelled to China, trying to set some new Guinness world records," SCL cofounder Marcel Mostert reported to IronMind.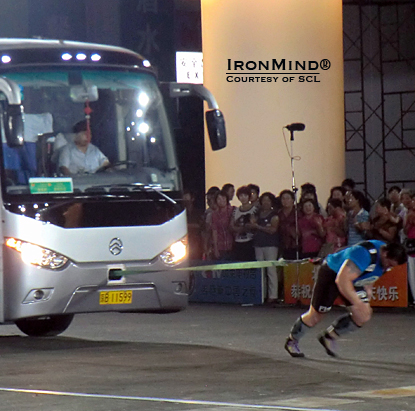 Using just an IronMind pulling harness and no rope, Jarno Hams broke the Guinness world record in the bus pull in Beijing. IronMind® | Courtesy of SCL.


"In the city Beijing, with more than 26 million people, we are still a kind of attraction," Mostert said.

"In the CCTV studios, with a great setup for events and tremendously kind people, we went for some records. And the first record is in.

"Jarno Hams got a new Guinness world record with a bus pull of over 50 meters, 17.5 tons and only pulling with an IronMind harness (no rope or start equipment). He set the record at 73.12 seconds.

"This show will be broadcast during the national holidays, October 1–7, on CCTV 1 , the biggest channel in China with more than 50 million people watching.

"Well done by Jarno and probably more records to come!," said Mostert.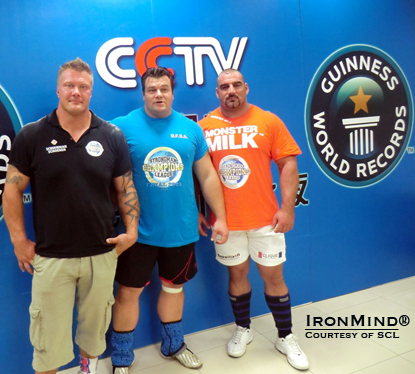 (Left to right) Tomi Lotta, Jarno Hams and Ervin Katona in the CCTV studios in Beijing. IronMind® | Courtesy of SCL.


###

Visit the IronMind Forum: talk strength, discuss this story. Strongman, grip, Highland Games, Olympic lifting, stones and more.

You can also follow IronMind on Twitter.