Bulgarian Weightlifting: Bouncing Back
Time was when it was no exaggeration to say that Bulgaria produced the most feared weightlifters in the world, as the small Balkan country became a dominant player on the international weightlifting stage.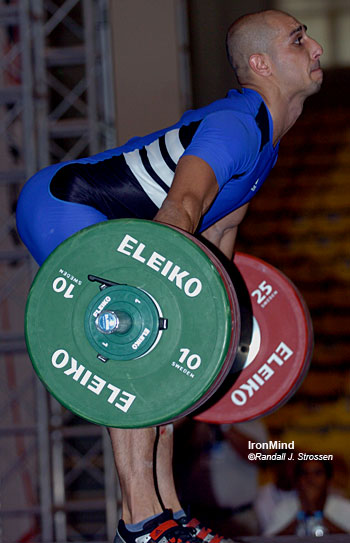 Demir Demirev brought home a bronze medal - the only medal garnered by the Bulgarian men's team at the 2006 World Weightlifting Championships . . . quite a change from not so long ago. IronMind® | Randall J. Strossen, Ph.D. photo.
Those were the glory days, when fabled Bulgarian weightlifting coach Ivan Abadjiev measured his successes not just in terms of gold medals and world records, but also in terms of such lofty standards as triple-bodyweight clean and jerks. Rocked by doping scandals, and its programs, coaches, athletes and overall resources siphoned off after the fall of communism, things have not been easy for the Bulgarian Weightlifting Federation of late. What's next for this national team with such a rich tradition of lifting really big weights?

General Secretary Stefan Botev told IronMind® that just as the Bulgarian weightlifting team did not perform up to its historic standards at the 2006 World Weightlifting Championships, one should not expect spectacular performances at the 2007 European Weightlifting Championships, either. However, Botev said, the team is aiming for a markedly improved level at the 2007 World Weightlifting Championships, which is a qualifier for the 2008 Olympic Games, a fact that tends to guarantee that teams will do their best to get all hands, and the biggest guns, on deck.