Bruce Robb Wins both the Blackford and the Blair Atholl Highland Games
It was a big weekend for Scotland's Bruce Robb, who won both the Blackford Highland Games and the Blair Atholl Highland Games.


The Blackford Highland Games
by Francis Brebner

The Blackford Highland Games in Scotland this past weekend attracted large crowds despite heavy showers throughout the day. The Games were opened by Chieftain Katharine Brown, the reigning Miss Scotland and Miss UK. A total of ten heavy athletes did battle with some very impressive distances produced despite the weather conditions.

In the opening event with the 16-lb. shot, England's David Dowson took the win with a putt of 52' 4" over Scotland's Bruce Robb, who surprisingly placed second with a putt of 51' 6" in his much favoured event. David Carlin took third place with 45' 6".

Moving to the 22-lb. shot and once again showing great form, Dowson had another win to his credit with a very nice putt of 45' 4", establishing a personal best in the process. Robb again had to settle for a second place finish with a putt of 44' and Carlin took third place with 39' 6".

The next event was the 28-lb. Weight for Distance British Championships, in which spectators witnessed a great throwing duel between Robb and Craig Sinclair, with Robb finally winning with a distance of 81' 5". In a very close second place was Sinclair with 79' 11"; Dowson took third place with 70' 7".

In the 16-lb. hammer, Sinclair claimed his first win with a throw of 126' 3"; in second place was Robb at 122' 1" and in third place was Dowson at 117' 4".

In the 22-lb. hammer the winning order stayed the same, with Sinclair throwing a distance of 111' 11" for his second win in the heavy rain showers; Robb followed in second place with 107' 1" and Dowson was in third with 97' 11".

The caber was 20' long and 130-lb. and only two athletes managed to toss the beast, with Robb finally taking the win with an 11:55 over Sinclair's 12:10 for second place. Peter Hart was in third place with an 87-degree attempt.

The final event of the day was the 56-lb. weight over the bar, won by Robb at a height of 15' with three athletes tying for second equal at 14': Sinclair, Stuart Anderson, and Hart.

Overall placings:
1. Bruce Robb
2. Craig Sinclair
3. David Dowson

2010 Blair Atholl Highland Games
by Francis Brebner


The 2010 Blair Atholl Highland Games last weekend were opened by His Grace the Duke of Atholl and the firing of a cannon.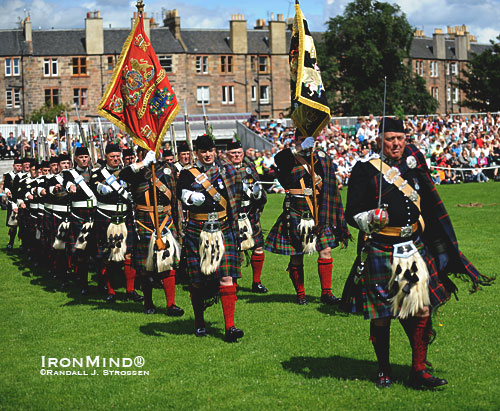 The magnificent Atholl Highlanders marched at the 2009 IHGF World Heavy Events Championships in Edinburgh, Scotland. IronMind® | Randall Strossen photo.


The Games featured the Atholl Highlanders, the only private army in Europe. Four of the Highlanders took to the dancing board and performed some traditional Highland dances, including the Argyll broad sword.

It was a dry sunny day and was believed to have a record crowd in attendance, which says a lot about these Games that used to host past events like the Highlander contests, but have since returned to hosting traditional Games and attracting larger crowds. A total of ten heavy athletes made up the field, with familiar names of Craig Sinclair, Bruce Robb, Sinclair Patience, John McLeod, Neil Elliot, Willie Falconer, Gary Hagen, Stuart Anderson, Pete Hart and England's David Dowson.

In the first event with the 16-lb. hammer, Scotland's number-one ranked hammer thrower Craig Sinclair claimed the win with a throw of 135' 10". Bruce Robb landed in second place with a 129' 9", which left Robb well happy as this was a personal best for him. John McLeod placed third with 123' 4" and David Dowson fourth with 121' 7".

The 16-lb. shot was a hard-fought win for Dowson, who just edged out Robb with a putt of 51' 9". Robb was second with 50' 9" and Neil Elliot, who is a 9-time Scottish shot put champion, placed third with 46' 8". Sinclair placed fourth with 46' 6".

In the 28-lb. weight for distance, Robb's throw of 77' 4" took the win from Sinclair, who placed second with 71' 7". In third spot was Elliot with 69' 1" and in fourth was Sinclair Patience with 67' 8".

The caber, which was 19' long and 130 lb. in weight, proved to be a very awkward caber indeed, with Robb the only athlete to turn it, producing a score of 12:05.

In the 25-lb. sheaf toss, Robb notched another win at a height of 22'. In second place was Elliot with 21'; in third place, Stuart Anderson with 20'; and in fourth place, Sinclair with 19'.

In the final event of the competition, the 56-lb. weight over bar, both Robb and Sinclair went at it tooth and nail, with Robb coming out on top at a winning height of 14' 6", leaving Sinclair in second place at 14'. Elliot and Anderson tied at 13'.

Overall points:
| | | |
| --- | --- | --- |
| 1. | Bruce Robb | 34 |
| 2. | Craig Sinclair | 32 |
| 3. | Neil Elliot | 30 |
| 4. | Stuart Anderson | 27 |

Want to talk strength? Join the IronMind® Forum!

You can also follow IronMind® on Twitter.