Bruce Aitken Wins the Luzarches Highland Games
Bruce Aitken won the Luzarches Highland Games and in France, and announced that next year he looks forward to competing in IHGF masters competitions.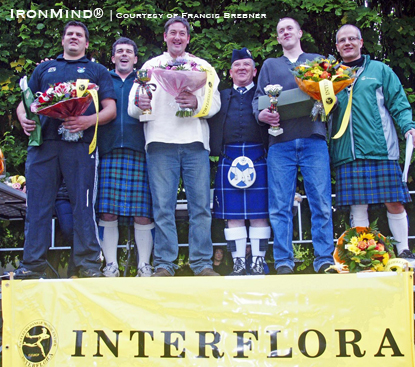 Still giving the young guys a run for their money, Bruce Aitken (center) prevailed at Luzarches, France, but watch out International Highland Games Federation (IHGF) masters because Aitken plans to join your ranks next year. IronMind® | Photo courtesy of Francis Brebner.


2010 Luzarches Highland Games
by Francis Brebner
Sunday, 26 September, Luzarches, France

This year the Luzarches Highland Games in France were held in a new location, right in the town centre of this small village near Paris. Athletes from several European countries and many spectators from surrounding areas traveled to Luzarches, which has an historical connection with Scotland as the twin town of Montrose, a Scottish coastal resort. The French hospitality was magnifique, and before the Games started, all were all treated to a good French breakfast.

The opening event with the 24-lb. Braemar stone was very close, with three athletes clustered together after the second round. In the final round, the German master athlete Andreas Deuschler pulled into the lead with a winning distance of 41' 8-1/4". The battle for second through fourth places was very close between Scotland's Bruce Aitkin and Stephen Aitken and Belgium's Jimmy van de Walle. A difference of 1" allowed B. Aitkin to snatch second place, leaving van de Walle in third; S. Aitken took fourth.

In the second event with the 22-lb. hammer, all eyes were on B. Aitken to see if he could break the record that he himself had set two years previously. He came close with his final throw of 108' 1/2". In second place was brother S. Aitken at 102'. After a very hard-fought contest with Neil McKenzie of Scotland, van de Walle took third place with a throw of 89'.

The 56-lb. weight for distance followed with several fouls called by Tommy de Bruijn, who was the head judge of the A class throwers. Again, it was a close tussle between van de Walle, B. Aitken and S. Aitken. In the end, B. Aitken took the winning throw with a distance of 36' 7". Second place was decided in the last round by S. Aitken nudging van de Walle into third place. Deuschler squeezed into fourth place over McKenzie.

In the next event with the 16-lb. open stone, it was a tight competition for the top three places, with B. Aitkin claiming the win with a distance of 47' 9-1/4". Close behind in second was the German shotput champion Deuschler, who hoped he could win the event with his final throw but came up 1" short. Van de Walle took a well-deserved third place over S. Aitkin with a throw of 46' 7", leaving S. Aitken in fourth.

The 16-lb. hammer was also won by B. Aitken with a distance of 137' 2-3/4". Brother S. Aitken took second with 128' and after a tough duel, van de Walle overcame McKenzie for third place.

In the 28-lb. weight-for-distance, B. Aitkin continued to garner the victories, this time emerging from a tight-knit group with only 2' separating most of the athletes, with his throw of 75'.

Before the caber event, the judges had the athletes choose from one of the cabers that were sponsored. Unanimously they selected a good 18-ft. caber, but unfortunately no one was able to turn this big stick. In an extra attempt, only Stephen Aitkin was successful with a toss of 12:10.

The famous French cork throw was next as a bonus event and it was won by Deuschler with a throw of 30' 8". Deuschler wanted to break the field record held by Scott Rider but fell just short with his extra attempts.

Heavy rain started to fall in the final event with the 56-lb. weight-over-bar, which hampered many athletes who were not able to get a good grip on the weight and which resulted in some under par throws. B. Aitken won at a height of only 13' 9-1/4", followed by van de Walle in second place at 13' and S. Aitken in third place at 11'.

B. Aitkin defended his crown in Luzarches, France with a commendable first place and told the Belgium Games Federation that he was looking forward to compete in the IHGF World Masters Championships next year when he turns 40. S. Aitken took second place with 21 points over van de Walle, who is quickly making progress in the international field of Highland Games and who placed third overall with 23 points; in fourth place was the talented Deuschler.

###

Want to talk strength? Join the IronMind Forum!

You can also follow IronMind on Twitter.