Bruce Aitken Wins the 2010 Halkirk Highland Games
Bruce Aitken won the Halkirk Highland Games, but young Jamie Gunn made quite an impression - Francis Brebner filed a contest report with IronMind®.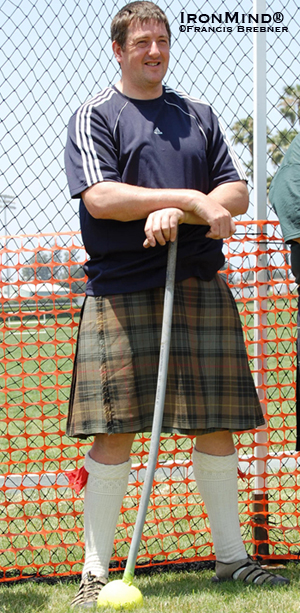 Bruce Aitken beat quite a field to take top honors at the Halkirk Highland Games. IronMind® | File photo by Francis Brebner (taken at the Costa Mesa Highland Games several years ago).


2010 Halkirk Highland Games
by Francis Brebner

The 2010 Halkirk Highland Games held on 31 July attracted a large entry of heavy athletes from throughout Scotland, including Aaron Neighbour, Jason Young, Bruce Aitken, Craig Sinclair, Murray Gunn, and Alistair Gunn, as well as Alistair's 18-year-old son Jamie and a 17-year-old local lad, Sam O'Kane. With individual Scottish Championships titles up for grabs in the 28-lb. weight for distance and both the light and heavy hammers, all the major players had their sights on winning, as Halkirk is well known for awarding substantial prizes.

The day was overcast with several light rain showers, but that did not deter the several thousand spectators who came out to watch the festivities of the championships and the opening of the Games by The Right Honourable Viscount Thurso MP.

Over the years the Halkirk Highland Games have been host to many legendary athletes. Geoff Capes made his debut in Halkirk some 25 years ago, winning all of the events except for both hammer events, which were won by then up-and-coming local athlete Alistair Gunn, preventing a clean sweep by Capes. Capes also set three ground records that day, which have since been broken by other international competitors.

The 22-lb. shot was the first event of the day and it was the powerful Young who, at over forty years old, won with an amazing putt of 45' 3". Aitken and Neighbour battled for a close second place, with Aitken beating Neighbour by a whisker with 42' 3" and nudging Neighbour back into third place at 42' 1". Sinclair finished in fourth place with 41' 7".

Young dominated the 16-lb. shot as well, with a great putt of 50' 3". Aitken once more held on to second place with 47' 1", and Sinclair moved up to overtake Neighbour for third place with 46' 3", leaving Neighbour in fourth place at 45' 3".

Moving on to the 56-lb. weight for distance, Sinclair took the top honours over Aitken with his throw of 40' 8". Aitken placed a close second with 39' 3"; Young was third with 35' 6"; and M. Gunn finished fourth with 34' 2".

In the next event, Sinclair regained his Scottish 28-lb. Weight-for-Distance Championships title with a throw of 77' 2". In second place was Aitken with 75' 10". M. Gunn moved up a gear into third place with a distance of 72' 2"; and Neighbour came in fourth at 71' 9".

The Scottish 16-lb. Hammer Championships was won by Aitken with a great throw of 137' 1". In second place, with a well-under-par throw, was Sinclair at 121' 2"; Young was hot on his heels at 119' 2"; and M. Gunn finished fourth at 118' 2".

Aitken kept up his good form with his second event championships win, this time in the Scottish 22-lb. Hammer Championships, with another vast throw of 111' 3". Sinclair finished in second place with 104' 9", and M. Gunn upped the pace for third place again at 99' 3", followed by Young in fourth at 97' 5".

The 56-lb. weight over the bar was won by Neighbour at a height of 15'. Sinclair, Aitken, and Young tied for second equal at 14' 6".

In the 16-lb. sheaf toss, Neighbour won with a throw of 29', leaving both A. Gunn and Aitken tying for second equal at a height of 27'. Sinclair, Young, M. Gunn and J. Gunn tied for fourth with tosses of 25'.

The final event, the caber, was won by Young with 12:01; in second place was Aitken with 12:03, third, M. Gunn with 12:06, and fourth, Sinclair with 11:50.

Overall results

1. Bruce Aitken

2. Craig Sinclair
3. Jason Young
4. Aaron Neighbour


Keep a close eye on Jamie Gunn in the near future—at only 18 years of age he is following in his father's footsteps, and I anticipate that with the proper coaching from Dad, we could be looking at another generation of hammer champions.




Want to talk strength? Join the IronMind® Forum!

You can also follow IronMind® on Twitter.