Brookfield and Bruney: Big Truck Pull
John Brookfield and Jon Bruney laid into a 31,000-lb. truck last Saturday, pulling it for a mile, and as tough as that was, John Brookfield told IronMind®, "I am planning to do some more pulling events, making it even harder than this one."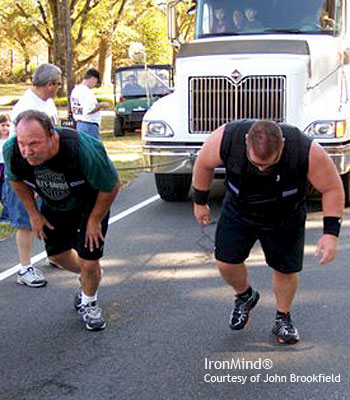 John Brookfield (left) and Jon Bruney (right) on their record truck pull last weekend. IronMind® | Photo courtesy of John Brookfield.

In strongman, there's a joke about the times the vehicle keeps rolling whether or not it's being pulled, but not so in this case as "the last 300-plus yards had a substantial upgrade," Brookfield said. "I learned from the driver that during this part of the pull, the truck actually wanted to roll backward."

"We had great success with the truck pull," said Jon Bruney. "I feel that the extreme cardio training before the event really prepared us for a world record performance. The final climb up the hill was a great test of mental and physical endurance."