Brock Wins Stone Mountain Highland Games . . . Sorin and Frasure Set Records
The Stone Mountain Highland Games saw a lot of top performances; Francis Brebner has filed this report for IronMind®.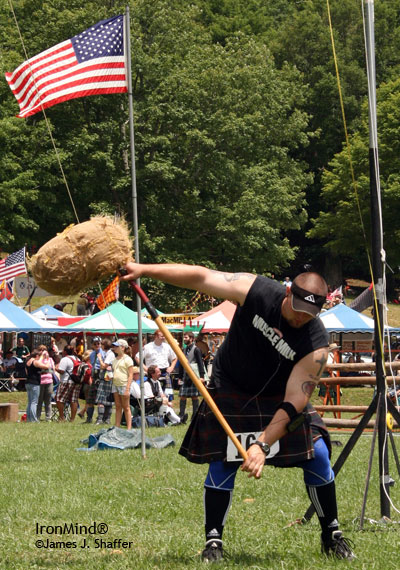 Eric Frasure broke his own world record in the sheaf toss. IronMind® | James J. Shaffer photo.


Stone Mountain Highland Games by Francis Brebner

Eighty thousand spectators witnessed world records and field records tumble this weekend at the Stone Mountain Highland Games, by the hands of young Eric Frasure and Bert Sorin, who are fast making names for themselves in the sport of Highland Games. In the 28-lb. Braemar standing putt, Bert Sorin was in a league of his own with a putt of 39' 10-1/2" for the win and a new field record, beating Petur Gudmunsson's (of Iceland) previous record of 39' 5" set in 2001 at Stone Mountain. In second was Craig Smith at 35' 10", and in third was Larry Brock at 35' 3-1/2".

In the 56-lb. weight for distance, Larry Brock landed a massive throw of 47' 9" that took the win over Frasure, who had a throw of 46' 10-1/2" for second; in third was Kerry Overfelt at 45' 1-1/2".

In the 28-lb. weight for distance, Frasure dominated the event with a crushing throw of 89' 11" for the win and established a new field record, beating the old record set by Larry Brock in 2007 at 88' 6-1/2". Brock was second at 86' 4", and Overfelt was third at 84' 4-1/2".

The 16-lb. hammer was most interesting as this was the first year it was introduced at Stone Mountain, with Sorin taking yet another win with a throw of 138' 3" and establishing a field record for the first year. Second was Brock at 133' 8" and third, Frasure at 131' 4".

Going into the caber event, with the 19', 135-lb. stick, it was Craig Smith's 11:00 toss that took the win, with Brock in second with a2:00 toss and Chris St. Clair in third with 2:30.

The 20-lb. sheaf toss was an exciting event that saw Eric Frasure establish a new world record with a throw of 36', beating his previous world record of 35' 10", which he set at Stone Mountain last year. Second was Overfelt at 33' and third was Brock at 28'.

But this was not the end of Frasure's record-breaking streak. In the 56-lb weight over bar, Frasure thrilled the crowds by setting a new field record of 19', smashing his own record throw of 18' set in 2007. In second place on countback, there was a two-way tie between Brock and Overfelt at 18', and in fourth place was Chris Chafin, who also hit 18'.

Final results:

1. Larry Brock - 54 points
2. Eric Frasure - 50 points
3. Kerry Overfelt - 47.5 points

Frasure said that he had a great weekend of Games: "The crowd just loved the throwing and got behind us during the whole competition, and after the competition ended, we were just swarmed by the spectators asking us for autographs and signing their t-shirts. It was great."

"It was a tough line-up of athletes, and I was very happy with my performances and establishing several ground records, but especially with the sheaf toss, setting a new world record. I give credit to Mike Yartin and also to Coach Mike Golden, Director of Strength and Conditioning at East Carolina University, who have helped me a lot."

"I am looking forward to my next Games in Richmond, Virginia, next weekend and hope that I can produce more performances like the ones I have done here."