Brittany Pryor: Sensational Debut at the Las Vegas Highland Games
IHGF CEO Francis Brebner has filed a report with IronMind on the Las Vegas Highland Games, where Brittany Pryor made a sensational debut in the sport.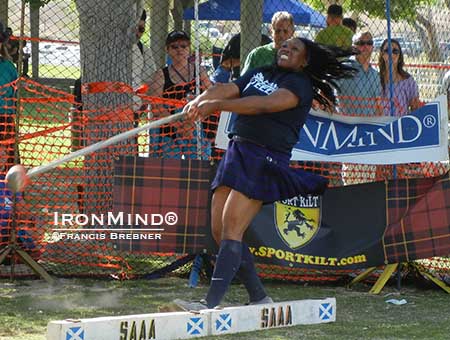 Brittany Pryor has been tipped as a potential world champion in the Highland games heavy events. IronMind® | ©Francis Brebner photo



2014 Las Vegas Highland Games
by Francis Brebner, CEO, International Highland Games Federation (IHGF)

The 10th annual Las Vegas Highland Games this past weekend attracted bumper
entries from novice, women's, masters' and amateur men's A, B and C
divisions, a staggering 127 athletes in all, making the Las Vegas Highland
Games the second largest grouping of athletes ever over a two-day Highland
Games. The Arizona Scottish Gathering and Highland Games currently has the
most recorded to date at 135.

One of the highlights of the games was watching the new sensation, Brittany
Pryor of Las Vegas, who competed in the woman's A class in her first-ever
Highland games. Showing her athletic talent and winning five of the nine
events, Brittany, who comes from a track and field background and who also
has competed in powerlifting and strongwoman, has now added Highland games
to her resume. She was competing against a very tough field of athletes,
featuring Heather MacDonald, Beth Burton, and Ivory Carr to name a few, all
of whom placed in the 2014 Woman's World Highland Games Championships top
ten.

The first event, the 14-lb. Braemar stone, was a comfortable win for Pryor
at a distance of 36'; second place was Burton at 27' 2-3/4", and third
MacDonald at 24' 4".

The 11-lb. open stone was amazing to watch as Pryor blasted out a series of
world-class putts, all over 40' with her best being 42' 9". Second and
third were again Burton at 29' 10-3/4" and MacDonald at 28' 11"
respectively.

In the 28-lb. weight-for-distance, Burton took hold of the reins with a
dominating throw of 26' 11". Second place was a close tussle between
MacDonald and Pryor, with MacDonald just pulling ahead with a throw of 34'
9-1/2", leaving Pryor in third at 34' 2-3/4".

The 14-lb. light weight-for-distance was a good event for MacDonald as she
lobbed a nice throw of 63' 9-1/4" for the win. Second went to Burton with
60' 3-3/4" and third to Pryor with 59' 6".

In the 16-lb. heavy hammer, Pryor, who excels in the track and field wire
hammer, one of her signature events, made easy work of the Scots hammer,
especially for throwing it for the first time in competition. Her winning
distance was 78' 2-1/2", followed by Burton at 74' 5" and MacDonald at 65'
2-1/4".

In the 14-lb. light hammer, gasps could be heard as Pryor sent the implement
sailing in a world-class effort of 102' 5". Burton was second at 91' 10"
and MacDonald third at 86' 5".

The 28-lb. weight-over-bar was a high point of the games weekend as Pryor
surprised everyone by clearing 18'. Burton did 16' for second and MacDonald
15' for third. Pryor later attempted the height of 19' but just missed
getting the arc needed to clear the bar. Some of Pryor's attempts reached
heights in excess of 20' but all were out in front of the bar, still very
remarkable for someone who has never competed in the sport, especially when
you think that the current world record stands at 20'.

MacDonald won the 10-lb. sheaf toss with a height of 24'; second equal were
Burton and Pryor with 21'.

The final event, the caber toss, was won by Burton with a 1:30 toss. Second
place went to Ivory Carr with a best attempt of 65 degrees and third place
to MacDonald with 60 degrees.

Women's A top three overall:
| | | |
| --- | --- | --- |
| 1. | Beth Burton | 16.5 |
| 2. | Brittany Pryor | 17.5 |
| 3. | Heather MacDonald | 23.0 |
The newly appointed athletic director for the games, Jason Corder, and SAAA
president Charles McLean were delighted with the number of entries for the
games and the influx of novice athletes taking up the challenge of the
sport, and also to have the new sensation in the women's A group, Brittany
Pryor. She, by the end of the day, had a flood of supporters and has been
already tipped by many as a possible future world champion if she continues
in the sport.

In the men's A group, Eddie Brown reigned supreme as he won four of the nine
events on his home soil: 22-lb. Braemar stone at 39' 5"; 16-lb. open stone
at 43'; 16-lb. hammer at 117' 1"; and 22-lb. hammer at 88' 7". The 28-lb.
weight-for-distance was won by Scott Hutchison with 79' 4"; 56-lb.
weight-for-distance at 38' 3"; and 20-lb. sheaf toss at 29'. In the 56-lb.
weight-over-bar, Corey Frazier set a personal best with 16' 7" and in the
caber Michael Holm won with a perfect 12:00 toss.

Men's A top three overall:
| | | |
| --- | --- | --- |
| 1. | Eddie Brown | 17.0 |
| 2. | Corey Frazier | 29.0 |
| 3. | Karl Gehrke | 30.0 |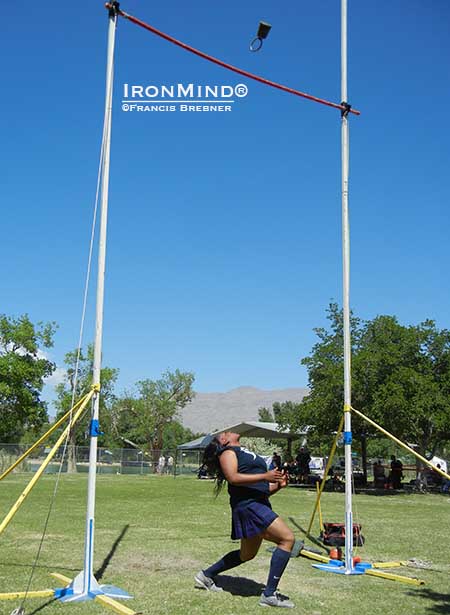 With the bar set at 19 feet, look at the height of Brittany Pryor's attempt and you can see why she's likely to be attacking the weight for height world record soon. IronMind® | ©Francis Brebner photo


###



Want to talk strength? Join the IronMind Forum.

You can also follow IronMind on Twitter and on Facebook.