Brian Shaw Wins World's Strongest Man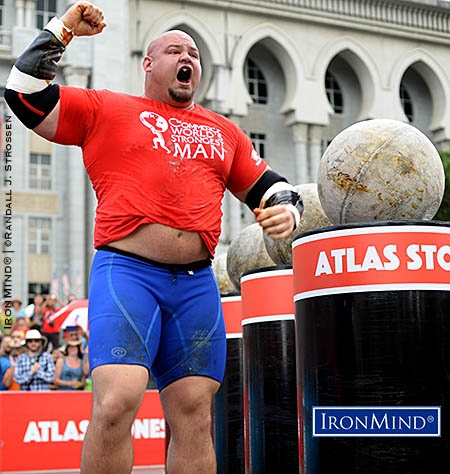 Kuala Lumpur—Brian Shaw won World's Strongest Man 2015 in a competition that came down to the last stone.

Some were ready to hand this year's World's Strongest Man title to Brian Shaw after he had built up a solid lead in the first day of the finals, but Zydrunas Savickas was not ready to concede defeat as he told IronMind yesterday, "Anything can happen."

This morning, Svend "Viking" Karlsen told IronMind, "Going into the last event, Zydrunas will be in position to win," and he said it with such conviction, you had to believe him.

First up today was the Power Stairs, and Big Z won, followed by Hafthor Julius Bjornsson in second place and Brian Shaw in third place. Now, Hafthor was only trailing Shaw by two points overall, and Savickas was only another 1-1/2 points behind the leader.

Log Lift was next and it was seen as a pivotal event—Zydrunas won easily and this catapulted him to first place, 1/2 point ahead of Shaw, who was two points ahead of Hafthor.

The Atlas Stones were the next and final event and as the event unfolded, the situation was that if they both loaded all five stones, the winner of the the Shaw–Savickas duel, the last pair to go, would be the winner of World's Strongest Man 2015.

Savickas was moving faster but the third stone slipped, while Shaw continued to motor along—as Savickas struggled with the last stone, Shaw completed his run and was won the contest. Hafthor was third, Eddie Hall fourh and Mike Burke fifth.

Watch for the broadcast of the World's Strongest Man on CBS Sports in the USA, said to be scheduled for this summer.

                                                                     ###



Follow IronMind on Twitter and on Facebook.


Want to talk strength? Visit the IronMind Forum: Strongman, grip, Highland Games, Olympic lifting, stones and more.