Brian Shaw: Strong Showing at World Strongman Super Series
Brian Shaw continued to put his stamp on the strongman world as he won the World Strongman Super Series contest at Venice Beach, California yesterday.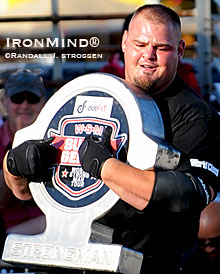 Brian Shaw took another step toward the top of the strongman world yesterday, when he won the World Strongman Super Series competition at Venice Beach, California. IronMind® | Randall J. Strossen photo.


Set in the most famous neighborhood in the iron world - California's Venice Beach - a dozen top names in the strongman world ran through six events designed to test their strength and entertain TV audiences.
Brian Shaw, coming off a big performance at the 2009 World's Strongest Man contest, maintained his momentum as he produced a consistently strong showing. Shaw finished off the day as the last man on the last event, the Atlas Stones, where he was the only competitor to load all five stones.

Here are the final places and points, officially:

1. Brian Shaw (USA) 32.00 points
2. Stojan Todorchev (Bulgaria) 27.50
3. Jason Bergmann (USA) 22.50
4. Nick Best (USA) 20.50
5. Krysztof Radzikowski (Poland) 18.75
6. David Ostlund (UK) 17.25
7. Terry Hollands (USA) 17.25
8. Johannes Arsjo (Sweden) 12.25
9. Stefan Solvi Petursson (Iceland) 10.00
10. Jarek Dymek (Poland) 8.50
11. Marshall White (USA) 8.25
12. Jimmy Marku (UK) 2.25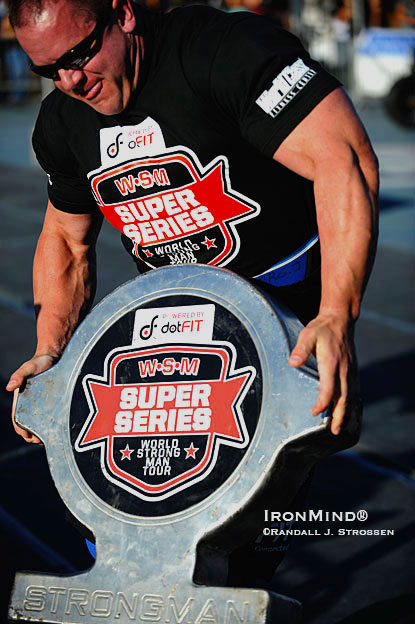 Jason Bergmann, besides finishing an impressive third overall, delivered the MILO® moment of the contest: As he approached the finish line on the Shield Carry, Bergmann lost his footing, hitting the deck along with the Shield. Determined to finish the event, Bergmann grabbed the Shield - like a bull by the horns - and wrestled it over the line. For a second, it looked like the fully-revved Bergmann was going to just throw the Shield over the line. IronMind® | Randall J. Strossen photo.