Brad Ardrey Wins IHGF Stones of Strength, Final Qualifer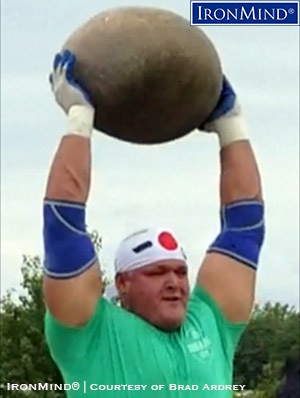 Brad Ardrey, CoC3.5 '13 won the final qualifier for the IHGF All-American Stones of Strength Championships.

Brad Ardey banged out 9 reps on the overhead press with this 200-lb. manhood stone, en route to winning the final qualifier for the 2017 IHGF All-American Stones of Strength Championships. IronMind® | Photo courtesy of Brad Ardrey


2017 Dublin Irish Festival: Final Qualifier in Stones of Strength Series
 
Brad Ardrey Wins IHGF Stones of Strength in Dublin
by Francis Brebner
International Highland Games Federation (IHGF)
 
The concluding qualifying round in the IHGF All American Stones of Strength series took place in Dublin, Ohio, at its Dublin Irish Festival; this strength event was the first of its kind, beside the Highland games, to be contested at the gathering and was well-received by the several thousand spectators. The competitive lineup of athletes included Mike Congdon, Brad Ardrey, Ryan Putzulu, Dusty Davis, Frank Quartucci, Jordan Hieber, Trevor Rutkowski, Joshua Eisele and Zac Durr, who engaged in five stone lifting disciplines.
 
In the 60-lb. stone putt, Congdon led the way from the first round with a throw of 17' 4" and then upped the ante, finishing with an impressive 18' 8". Second place was very close with Rutkowski inching ahead with 17' 3", leaving Ardrey and Quartucci in a tie for third at 17' 1".
 
The 330-lb. Husafell stone carry had the fans cheering athletes throughout. Putzulu, going first, set a respectable benchmark of 91'. Eisele took off like a sprinter and ripped out a distance of 250' 6" to take the lead, and just when it looked as if he had it in the bag, Rutkowski surpassed him with a crushing distance of 305' 3". Congdon produced a best of 238' for third.
 
Athletes had 60 sec. to lift the 350-lb. stone with a handle in the duck walk and carry it over a course of 10 m. Just tenths of a second separated the top three, with Ardrey winning with 6.4 sec., Quartucci in second with 6.6 sec., and Congdon in third with 6.7 sec.
 
In the manhood stone, athletes had to lift a stone weighing 200 lb. onto their chest and then press it overhead and repeat as many times as possible within 75 sec. Ardrey did a magnificent 9 reps, followed by Rutkowski, who gave his all for 7 reps. Putzulu was third with 6 reps.
 
The Atlas Stones ranged in weight from 200, 250, 300, 350, to 400 lb., and athletes had 60 sec. to load them onto barrels. Eisele completed all five stones in an impressive time of 56 sec.; Congdon did four stones in 18 sec., and Ardrey also did four stones in 24 sec.
 
Final placings
1. Brad Ardrey
2. Trevor Rutkowski
3. Mike Congdon
4. Frank Quartucci
5. Ryan Putzulu
6. Joshua Eisele
7. Dusty Davis
8. Jordan Hieber
9. Zach Durr

The top four athletes—Brad Audrey,Trevor Rutkowskie,Mike Congdon,Frank Quartucci—have qualified and will go through to the finals of the IHGF All American Stones of Strength Championships set for the 14th-15th of October in San Clemente California where the winner will go forward to compete in Fefor, Norway in 2018.

                                                        ###



You can also follow IronMind on Twitter, Instagram and on Facebook.                        



Want to talk grip, strongman, weightlifting . . . everything strength? Visit the IronMind Forum.