Lignano Sabbiadoro - Igor Bour (Moldavia) missed his first two snatches, but he came back to hit his third attempt, and by the end of the evening he was the 56-kg champion at the European Weightlifting Championships, as Halil Mutlu (Turkey) fell short of regaining his gold medal form.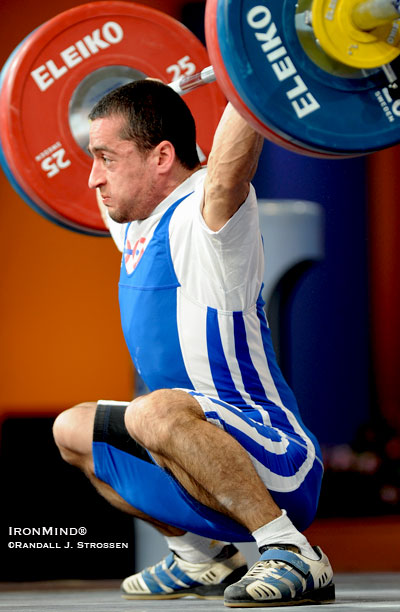 With this second miss, the pressure was on Igor Bour, but he came through and made this same weight (118 kg) on his third attempt. IronMind® | Randall J. Strossen photo.
After two misses at 118, Bour looked to be in deep trouble, but he made the weight on his third attempt, staying in the hunt.

Next up was Halil Mutlu and all eyes were on the three-time Olympic gold medalist, returning to competition after a two-year suspension following a positive drug test.

"He has no definition," said someone right away, pointing out how smooth Mutlu looked compared to the rock hard appearance he has presented in the past. The softness must have been more than superficial, as Mutlu missed his opener, 120 kg, badly, sending minor shock waves through the competition hall. His second attempt wasn't much different and by now there was a real sense of how bad things were for Mutlu at the moment, but showing that he can perform under pressure, Mutlu pulled out a good lift on his third attempt.

After Bour made 148 kg on his opening clean and jerk, Mutlu silently but undeniably broadcast his condition by lowering his opener, coming out for 149 kg. This was bad enough, but he missed the weight, unable to rack it. Any hope for a miracle had vanished now, but Mutlu gutted out a successful lift on his third attempt, going into an extremely deep split to hold the jerk. Bour made 151 kg on his third attempt, but the same weight went nowhere for Mutlu.

"I came to prove that I could perform at my old level . . . and I failed," Mutlu said afterward, being remarkably frank about how he had come up short.