Boris Repeats as Iceland's Strongest Man
Since 1985, Iceland's Strongest Man contest has featured marquee names in the sport - Jon Pall Sigmarsson, Magnus Ver Magnusson, Hjalti Arnason and Torfi Olafson are among the winners - and this weekend, Kristinn Oskar (aka Boris) Haraldsson repeated as the strongman king in the Land of Fire and Ice.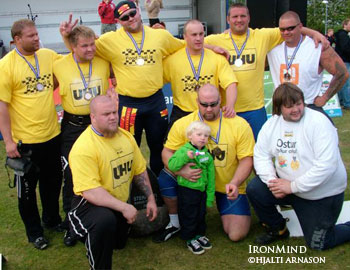 The field from the Iceland's Strongest Man (and a future winner?) lines up. IronMind® | Hjalti Arnason photo.

This is the original contest, Hjalti Arnason explained to IronMind®, and this year the field included several top guest competitors: Terry Hollands, Rene Minkwitz and Don Pope.

Arnason filed this report:

"Boris wins again; he had a great start, winning in the squat with 602 kg (13 cm) and in the log lift with 165 kg. Then Terry Holland won Atlas stones, and Hercules hold. Rene Minkwitz won the Toyota Hilux hand over hand on a grass, Terry won the yoke race, the truck pull and the medley. Boris won forward hold and had 1/2 point lead for the final event, the Husafell stone. Two thousand people went mad when Boris did a dance with the Husafoll stone Jon Pall-style.'

"Lafur Gudjonsson did win the Husafell stone; he is 108 kg and he did a walk of close to 50 meters."

Here are the final places and point for the top four:

1. Boris 68 points
2.Terry Hollands 64.5
3. Don Pope 56.5
4. Rene Minkwitz 55.

"The first part of the contest will be on Syn in Iceland next Thursday and the second part will air one week later," Arnason said.