Black Friday Sale at IronMind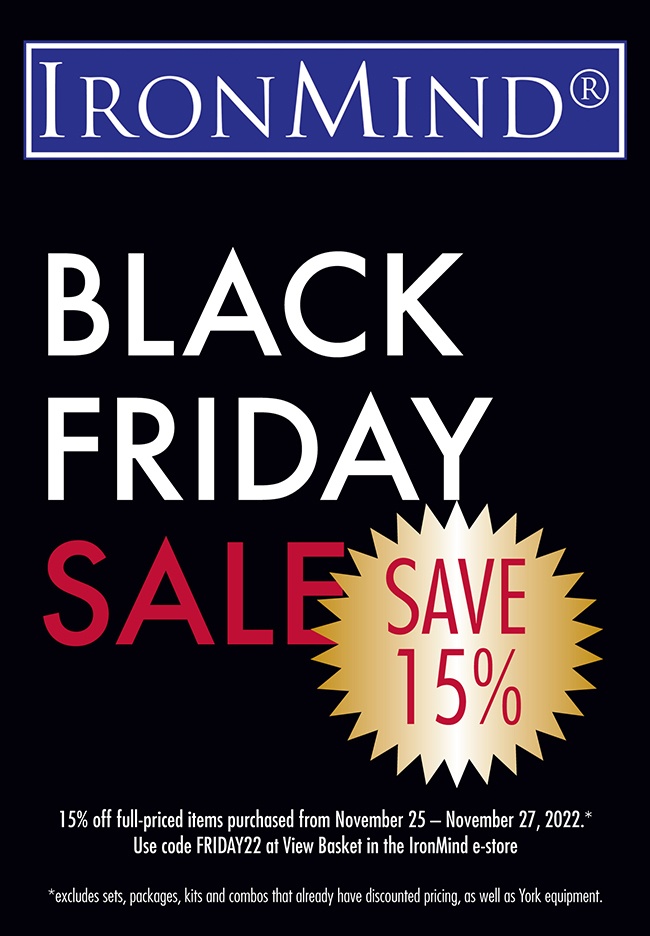 Black Friday weekend – November 25 – November 27, 2022 – is your chance to save 15% on top-quality IronMind® products.*
If you're missing any, here's your chance to fill in the gaps on your collection of IronMind's gold standard grippers: Captains of Crush®, IMTUG, Zenith and Left-Turn, plus grip tools known worldwide: Rolling Thunder®, IronMind Block, Go-Really Grip Machine, Little Big Horn, CoC Silver Bullet and more.
Save on the Buffalo Bar, SUPER SQUATS Hip Belt, and Tough-As-Nails Sandbags and Gym Bags, and gym equipment too, like the Apollon's Axle, Vulcan Racks, Pillars of Power, and Five Star Flat Bench. Don't forget IronMind's hand health tools, like the Expand-Your-Hand Bands and IronMind EGG, for starters.

Use keycode FRIDAY22 to access these savings in the IronMind e-store.
IronMind: "Tools of the trade for serious strength athletes . . . since 1988."
All IronMind products are made in the USA—always have been.
*15% discount applies to full-priced items only; use keycode FRIDAY22 in the IronMind e-store.
###


You can also follow IronMind on Twitter, Instagram and on Facebook.
Want to talk grip, strongman, weightlifting . . . everything strength? Visit the IronMind Forum.