Heidelberg—If you want to see a good weightlifting contest, come to Germany, and once again that proved true as the 2012 German Olympic Weightlifting Trials were held as part of well oiled show at the Olympic Training Center.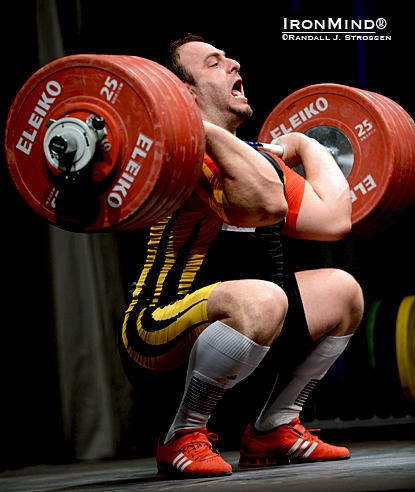 Almir Velagic looked strong on this 231-kg clean and jerk. IronMind® | Randall J. Strossen photo.


With Marc Huster on the microphone, and additional past Olympic medalists Oliver Caruso, Ronny Weller and Joachim Kunz on hand, not to mention head coach Frank Mantek, there was plenty of talent and tradition on hand.

The contest was run in the round system, with the lifters, which included the top French athletes as well as the Germans, divided into two groups—one following the other first in the snatch and then in the clean and jerk.

The French team did not have its best night, as Vencelas Dabaya was unable to make his opening clean and jerk of 160 kg and Benjamin Hennequin suffered the same fate with his 210 kg in the clean and jerk, although he had made 200 kg in training two days earlier.

Julia Rhode and Christin Ulrich made the Olympic team for Germany, with Rhode only missing her last jerk (100 kg), and Ulrich sweeping through six good attempts, including 110 kg on third clean and jerk—which she started, dropped the bar, realized it had not yet reached her knees and so she attacked the weight again and fought her way to good lift.

Juergen Spiess, Almir Velagic and Matthias Steiner made the men's team: Spiess made 176/212 and Velagic hit 185 in the snatch followed by a strong third attempt 231-kg clean and jerk. Defending Olympic gold medalist Matthias Steiner, plagued by injuries, showed his fighting spirit as he snatched 185 kg, missed 190 kg twice, and then sailed through 215 and then 225 kg in the clean and jerk.

As part of the lively, well-planned evening, the lifting was followed by a broadcast of the Euros 2012 match between Germany and Portugal, and when Germany won 1–0, the fans could not have asked for better evening of sport, entertainment and fun.

###



Visit the IronMind Forum: talk strength, discuss this story. Strongman, grip, Highland Games, Olympic lifting, stones and more.

You can also follow IronMind on Twitter.