Big Card Set for World Strongman Super Series Venice Beach GP
The World Strongman Super Series Venice Beach is bringing some of the top names on the professional strongman circuit to Muscle Beach in Venice, California.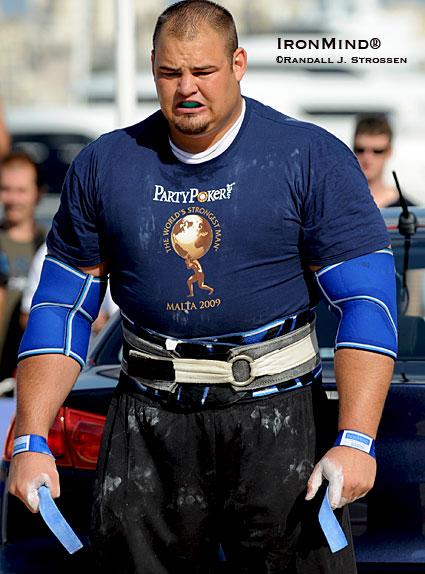 Strongman: It's where the big dogs play. Come to Muscle Beach (Venice, California) and see Brian Shaw (who stands 6' 8" tall and weighs 390 lb.) and other big names from the professional strongman circuit. IronMind® | Randall J. Strossen photo.


IronMind® has just received the official start list, which includes top names, both young and established, from the USA and Europe:

1. Brian Shaw USA
2. Nick Best USA
3. Marshall White USA
4. Dave Ostlund USA
5. Jason Bergmann USA
6. Terry Hollands UK
7. Florian Trimpl Germany
8. Johannes Arsjo Sweden
9. Jarek Dymek Poland
10. Stojan Todorchev Bulgaria
11. Stefan Solvi Petursson Iceland
12. Tamas Malatinszki Hungary
13. Jimmy Marku UK

"Brian Shaw is the headliner," Odd Haugen told IronMind®. This is also the contest that Dave Ostlund won in 2007, beating Mariusz Pudzianowski, and Dave's coming back." Also, with the young Swedish talent, Johannes Arsjo, the top Brits Terry Hollands and Jimmy Marku on hand, and such other big draws as Stefan Solvi Petursson and Jarek Dymek, this is a top flight field of professional strongman competitors.

The contest will be held by the basketball courts rather than by the lifting area, and the limited seating will be available on a first come, first served basis for $10 (free with a souvenir T-shirt). The competion is set for November 14, and scheduled to start at 12:00 or 12:30, with the gates opening at 11:00, so plan ahead, watch the action live and maybe end up on TV, as well.