Benedikt Magnusson Withdraws from USC-Australia Strongman Contest
Citing specific reasons, Benedikt Magnusson has withdrawn from the Ultimate Strongman Championships scheduled for Australia next month.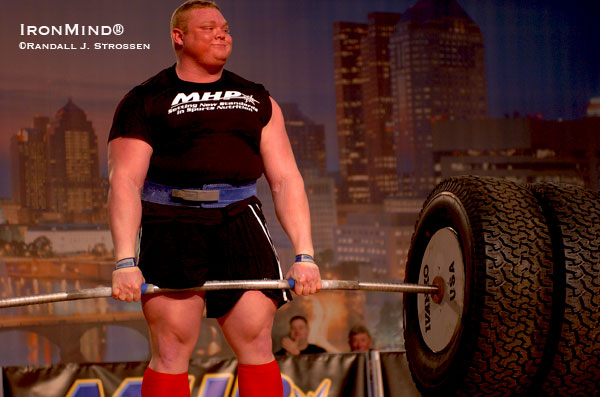 If it's not nailed down, Benedikt Magnusson can probably deadlift it . . . and have fun while doing it. IronMind® | Randall J. Strossen photo.


"Benedikt was asked over 18 months ago if there would be a competition where the deadlift was 400 kg for repetitions would he do it," his wife, the strongwoman competitor and promoter Gemma (Taylor) Magnusson, told IronMind®.

"'Absolutely!' was his extremely quick reply. This question was asked by some great Australian people with a fantastic vision of a super heavy USC competition," Gemma (Taylor) Magnusson explained.

"When he received the description of the other events, being 9 in total, Benedikt saw that this competition was going to be a lot of fun," Gemma (Taylor) Magnusson told IronMind®. "The log lift medley ENDED at 200 kg, the deadlift was billed at 400 kg for repetitions, the 450-kg Super Yoke was super heavy for 20 m, but last week he received an email that all of this would change and the deadlift had been reduced to 350 kg for reps, that the 20 m was now 40 m and that all the 'fun' had been removed somewhat 6 weeks before the competition. As Benedikt described it, 'This is now a carrot cake without the carrots!!'

"Benedikt had spent the summer gaining himself up to 177.5 kg (390.5 lb.) and this news was going to mean that he would have to drop about 15 - 20 kg but as he said, 'I am having too much fun being this heavy!'"

"For whatever the reasons behind the weight changes, Benedikt was just plainly disappointed about it," IronMind® was told. He commented that, "What was going to be an awesome show of strength had turned into a fitness competition," and then suggested in jest, "I had better go and get a tan and shave my legs!

"Being strong is just one of my hobbies, and I do it because I enjoy it and because it is fun. Training for strength to me is about evolution and constantly getting stronger," Benedikt said. "Reversing this process it just not Benedikt's style," explained his wife. "So, instead, he will be going for the Icelandic Log Lifting record at the Super Gym MAX competition on November 14. [That record] is currently 175 kg, held by Heiðar 'Heisi' Geirmundsson."

If you want to take on that record yourself, you can register online to compete at Super Gym Max, and while you are there, you can also buy a commemorative pin from the recently held Iceland's Strongest Woman contest, with all the proceeds going to the Pink Ribbon breast cancer charity.