Belarus Strikes Gold at the IWF World Championships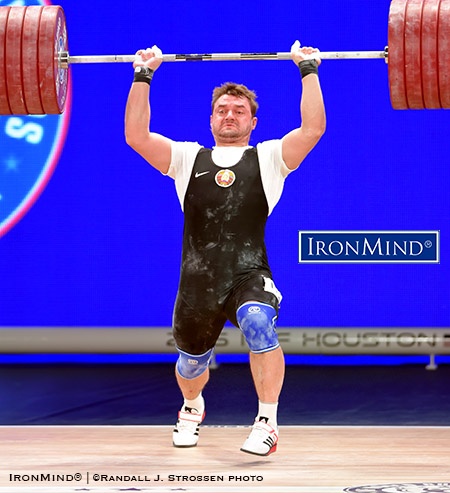 Houston—Vadzim Stralsou (Belarus) finished sixth in the snatch but his winning clean and jerk also gave him the gold medal in the total, in an impressive come from behind victory.

Pre-competition favorite Zhassulan Kydyrbayev (Kazakhstan) made his opening snatch of 178 kg but then missed 183 twice, leaving him with the bronze medal, and foreshadowing the problems he would run into. Aleksei Kosov (Russia) won the snatch with 181 kg, and Arimas Didzbalis, who took three tries to succeed with 180 kg, got the silver medal. China continued to struggle as Liu Hao bombed with 173 kg.

The clean and jerk saw both Stralsou and Almas Uteshov (Kazakhstan) open with good lifts at 220 kg, followed by successes with 230 kg on their second attempts. Both lifters took 234 kg on their third attempts, trying to break the world record in the clean and jerk, but neither was successful—Uteshov missed the clean and Stralsou missed the jerk.

Please see the IWF website for full results.

                                                                    ###



Follow IronMind on Twitter and on Facebook.


Want to talk strength? Visit the IronMind Forum: Strongman, grip, Highland Games, Olympic lifting, stones and more.