Behdad Salimi Wins the Supers at the World Weightlifting Championships
Antalya, Turkey — Iran's latest super super, Behdad Salimi, strutted his stuff at the 2010 World Weightlifting Championships and won the superheavyweight title.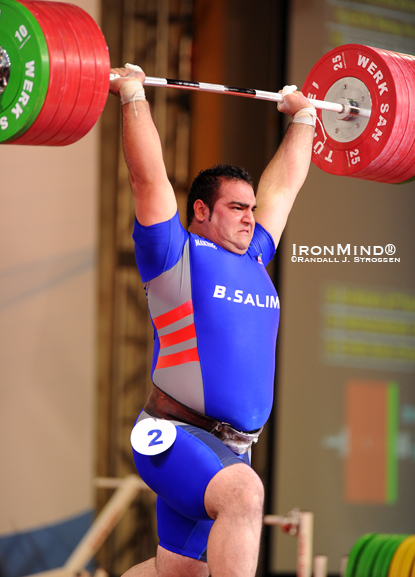 Punching this 245-kg jerk overhead, Behdad Salimi (Iran) won the superheavyweight class at the 2010 World Weightlifting Championships. IronMind® | Randall J. Strossen photo.


Evgeny Chigishev (Russia) won the gold medal in the snatch with a commanding 210-kg lift, but was snakebitten in a replay reminiscent of this year's European Weightlifting Championships when he appeared to suffer a hamstring injury in the clean and jerks, knocking him out of the competition. Defending Olympic champion Matthias Steiner (Germany) was ecstatic in winning the gold medal in the clean and jerk with a 246-kg lift, edging out Salimi who missed the jerk with 247 kg.

But, proving that two silver medals can lead to one gold, Salimi left with the gold medal in the total.

###


Want to talk strength? Join the IronMind Forum!

You can also follow IronMind on Twitter.