This will be the third times it's been held and Brad Gillingham (USA), along with Jorgen Ljunberg (Sweden), have been there for all of them.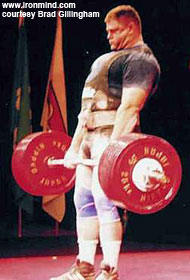 Brad Gillingham pulls 382.5 kg (843 pounds) at the 2001 World Games. IronMind® | Photo courtesy of Brad Gillingham.

The entries at this prestigious powerlifting invitational includes four IPF world champions (Bondarenko, Suslov, Malanichev, Gillingham) in what is a talent-rich field that will be competing in Orebro, Sweden this weekend. Prize money is paid out using the Wilkes formula, as well as for world records and for actual top lifts.

Brad Gillingham, the 2001 and the 2002 IPF superheavyweight world champion, arguably the most prestigious title in powerlifting, said that the past Battle of the Giants contests (1999 and 2001) have drawn crowds in the range of 2,500 (!) and that the lifters are selected on the basis of representing the best in the world.

Known worldwide for his prodigious pulls, Brad Gillingham told IronMind®, "The deadlift always speaks a lot for me . . . ," explaining that while he is aiming for a +2300-lb. total, he also hopes to have one of the top deadlifts in the contest.