Aunimas Didzbalis: Big Lifts in the 94s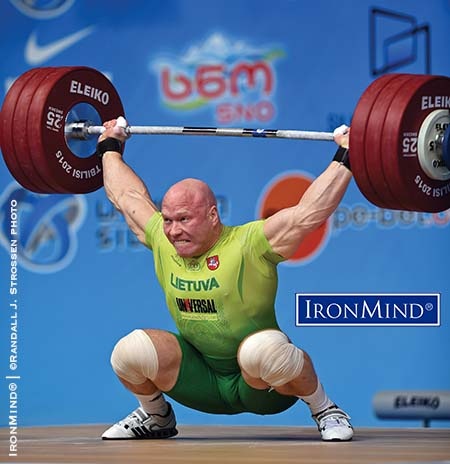 Tbilisi—Aunimas Didzbalis (Lithuania) posted a world class 403-kg total to win the men's 94-kg title at the 2015 European Weightlifting Championships and it could have been even higher as he narrowly missed a 189-kg snatch that would have been a new world record.

Khetag Khugaev (Russia) also proved to be someone to an eye on as he went six-for-six and totaled 399 kg.

After securing the gold medal in the snatch with a successful 182-kg second attempt, Didzbalis called for 189 kg in a bid to break the world record—he had the bar overhead but was not able to fix it and keep it aloft. Khugaev got the silver medal via 180 kg and Lukasz Grela (Poland) was the bronze medalist in the snatch, with 178 kg.

Khugaev hit 207 kg for his opener in the clean and jerk, with Didzbalis and Anatoli Ciricu (Moldavia) both making 210 on their first attempts. Khugaev made another good lift, very solid, with 212 kg, on his second attempt, and then Ciricu missed the jerk twice with 216 kg—both times, he had the bar overhead and started rotating clockwise. On the second attempt, Ciricu almost did a 180-degree rotation before dropping the bar and on his third attempt, he tried to stay planted as rotated about a one quarter turn before losing the lift.

Didzbalis and and Khugaev were tied in the total at this point, but Khugaev was lighter, so Didzbalis called for 219 kg on his second attempt—looking to go into the lead—and made a solid lift, which he celebrated with a back flip. Khugaev took 219 kg on his third attempt, succeeded, and was in gold medal position in the jerk as well as the total, but Didzbalis, who had been in for 221 kg, stayed there, made another good lift, for all the marbles.

                                                                     ###



Follow IronMind on Twitter and on Facebook.


Want to talk strength? Visit the IronMind Forum: Strongman, grip, Highland Games, Olympic lifting, stones and more.