Asian Weightlifting Championships
AWF General Secretary Ali Moradi has just released the official timetable for the upcoming Asian Weightlifting Championships, where such powerhouse weightlifting countries as Iran, China, Korea and Kazakhstan are expected to produce world-record level performances.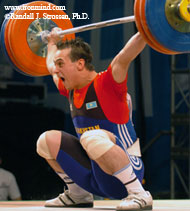 Ilya Ilin (Kazakhstan) sinks the putt on this 168-kg snatch, as part of his riveting performance in the 85-kg category at the 2005 Junior World Championships (Busan, Korea). IronMind® | Randall J. Strossen, Ph.D. photo.

Set for Dubai, the lifting starts on September 26 and concludes on September 30.