Artem Okulov: Consistently Good, Gets Gold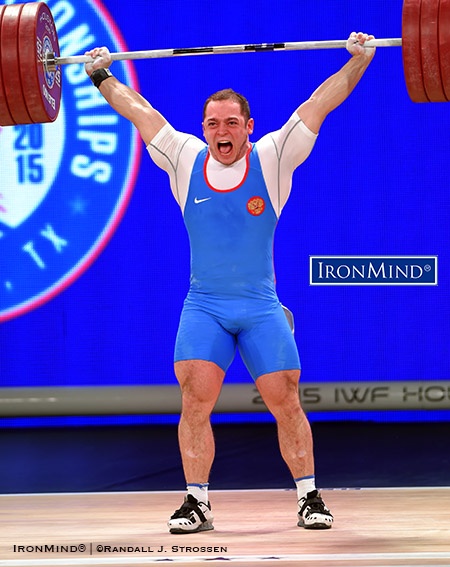 Russia's Artem Okulov won the 85-kg class at the IWF World Championships last night, a nice addition to his victories at the 2013 and 2014 IWF Junior World Championships.

The Chinese Weightlifting Association might be saying deja vu . . . again as Tian Tao won the snatch, only to bomb out in the clean and jerk—just as his teammate Lu Xiaojun had done the night before in the men's 77-kg class. Tian Tao was the third lifter on the Chinese men's team who failed to post a total, which has cost the team valuable Olympic qualification points.

Okulov, on the other hand, was consistently good: he went six-for-six, with a silver medal performance in the snatch (176 kg), and gold medal performances in the clean and jerk (215) and the total (391).


Kianoush Rostami (Iran) had two attempts left in the clean and jerk when Okulov was done, plus he was lighter, and he appeared to be very confident in the clean and jerk—Rostami had by far the highest opener (214 kg), and it signaled that he was very likely to attack the world record.

Rostami took 218 kg on his second attempt and a successful lift would give him the gold medals in the both the jerk and the total—he appeared to have made the lift, but then lost control of the bar at the last minute and it crashed down. 

Showing his confidence, Rostami moved up one kilo on his third attempt—with a world record in the clean and jerk added to the rewards if he could make a good lift, but the wheels came off the car early when the Iranian lifter was red lighted for an elbow touch.

Please visit the IWF website for complete results.

                                                                    ###



Follow IronMind on Twitter and on Facebook.


Want to talk strength? Visit the IronMind Forum: Strongman, grip, Highland Games, Olympic lifting, stones and more.