Arnold Strongman: Mikhail Shivlyakov Wins Amateurs, Vytautas Lalas Wins the Pros
"The show is over!," ASC president Dione Wessels reported to IronMind, speaking of the amateur strongman contest at the Arnold.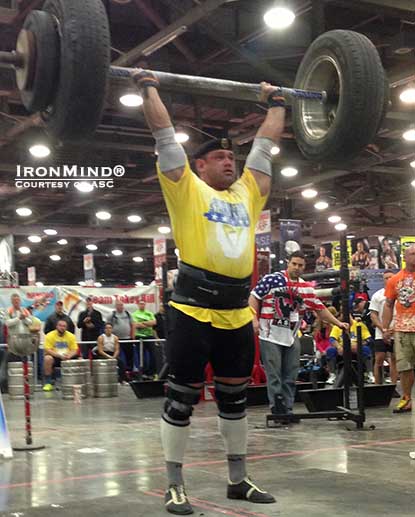 Mikhail Shivlyakov (Russia) on the IronMind Apollon's Axle, on his way to winning the Arnold Amateur Strongman competition. IronMind® | Photo courtesy of ASC.


"Mikhail Shivlyakov of Russia wins, Jacob Bodi of USA is second and Bartek Bąk is third.

"Mikhail had a stellar performance and stayed steady all day. Shivlyakov will compete in the Arnold Strongman pro class next year. The contest ended with great dramatic fashion and another great athlete will join the Arnold pro circuit next year," said Wessels.

And speaking of the Arnold pro strongman contest, Vytautas Lalas won, Brian Shaw was second and Misha Koklyaev was third—three competitors suffered biceps injuries on the stone lift, including past winner Derek Poundstone.

In addition the amateur strongman contest, Wessels was running a Strongman/Strongwoman Fitness competition.
"For the Strongwoman Fitness, Alanna Casey of Texas won the show convincingly. Maya Winters was 2nd, Kim Baum 3rd and Kirsi Jarvi of Finland was third. It was great to see these gorgeous women compete in the House of Pain clothing as well as for them to be presented on the main stage.

"The Strongman Fitness winner was Travis Lucas of North Carolina and these guys showed as much guts and speed as the over 300-pound guys.

"Overall a great show, great response, staff, etc. many thanks to all that have continued to support us!," said Wessels.



###



Visit the IronMind Forum: talk strength, discuss this story. Strongman, grip, Highland Games, Olympic lifting, stones and more.

You can also follow IronMind on Twitter.