Arnold Strongman Coming on Eurosport
The 2009 Arnold strongman contest will be broadcast on Eurosport this coming Friday at 8:00 p.m. European time, Marcel Mostert told IronMind®.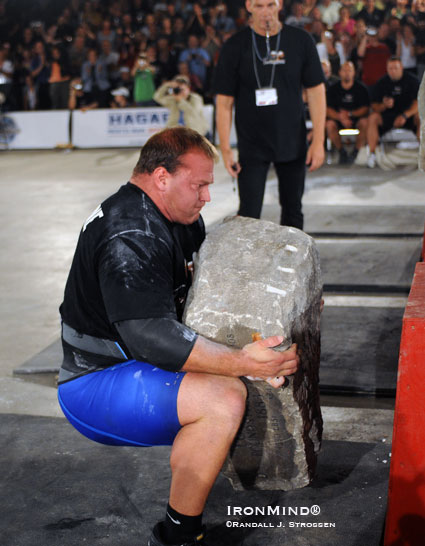 2009 Arnold strongman winner Derek Poundstone tackles the final stone at Fortissimus 2009. IronMind® | Randall J. Strossen photo.


"I find it very important that a show like Arnolds is broadacast," said Mostert. "It is one of the big strength shows, and it shows what our sport is capable of. So, therefore I bring it on Eurosport, because I think about the future of our sport . . . in small steps going to a higher platform."

Mostert has become a key player in achieving this goal, as he puts his many years in strongman to good use both on the field and off.

This past weekend, Marcel Mostert and Ilkka Kinnunen, the co-founders of Strongman Champions League, put their decades of strongman experience to work as they refereed Fortissimus - where their contributions helped keep things running smoothly at what has become a top-tier strongman contest. With Mostert and Kinnunen helping to define and enforce the rules, events ran smoothly and the sort of disputed calls that could cloud an event were notably absent.

It's this sort of intimate familiarity with strongman that gives Mostert the insider's eye that helps him package these events for TV, and later this year Mostert will be doing for Fortissimus what he did for the Arnold strongman contest . . . getting it broadcast on Eurosport.

Stay tuned for more details.