Arnold Classic: "The Greatest Show on Earth"
With 49 days and counting until the Arnold Expo, Jim Lorimer introduced yesterday's Committee Chairpersons meeting with press coverage highlights, and one writer minced no words, calling the event "the greatest show on earth."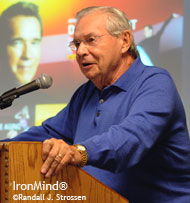 As the Committee Chairperson meeting ended yesterday, Jim Lorimer took a moment to pose with the signature ad for this year's event (Columbus, Ohio). IronMind® | Randall J. Strossen, Ph.D. photo.
With more than half a dozen Olympic sports on the schedule, and the promise of seeing everything from, for example, some of the world's top strongmen to young kids just starting off in gymnastics or fencing, the Arnold Fitness Weekend has something for just about everyone - and the expectation is that about 100,000 people will be there to prove the point.

At yesterday's meeting, Steve Slater's status report on the strongman contest confirmed that the competition will include the same events as last year - although the Hummer deadlift setup has been prepared to go over 1,000 pounds this year - and there will be an absolutely world-class field of competitors. Columbus Weightlifting Club's Megan Tornstrom and Mark Cannella reported on the weightlifting competition, which they brought to the Arnold with great success - winning rave reviews from California Governor Arnold Schwarzegger himself - and at Mr. Lorimer's invitation, they were joined by IronMind®'s Randall Strossen, who gave a recap of the invitation accepted by a stellar delegation from the Chinese Weightlifting Assocation, which includes a top coach and two gold medalists from the Athens Olympics. Scientifically-minded strength athletes should be sure to catch the strength summit seminars - StrengthPro's David Sandler has some top names in the strength world ready to teach and inspire you, and while he kidded about not being the most exciting thing going on at the show, when you see his lineup, you will want to stop by.

Yoga, table tennis, cheerleading, archery and dance sport are just a few of the other choices available to you if you're looking for something besides heavy duty lifting.

The room was buzzing with energy as the people responsible for the individual events and services that make the Arnold Fitness Weekend what it is are getting ready to raise the curtain.

Check the Arnold's website for event details and ticket information.