Arnold Amateur Strongman and Strongman Fitness
"Day one is over for the Arnold Amateur Strongman World Championships and Strongman Fitness men and women!," ASC president Dione Wessels reported to IronMind.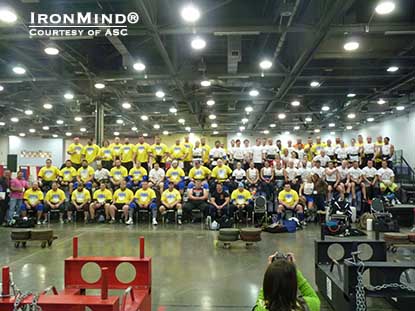 Supersize strongman: the ASC amateur strongman event at the 2013 Arnold "drew over competitors from around the world," Dione Wessels reported to IronMind. IronMind® | Photo courtesy of ASC.


"It is definitely the largest international strongman event anywhere [with] over 75 athletes from around the world and only one injury. The crowd was doubled from last year and all athletes performed wonderfully!


"The top ten in the open class that will move on to day two on the [Expo Hall] main stage Sunday at 1:30 are:

Mikhail Shivlyakov (Russia) 157.5
Lou Costa 141 (USA)
Mateusz Ostaszewski 128.5 (Poland)
Tommy Miller 128 (USA)
Brett Somerville 127.5 (USA)
Bartek Bąk 125 (Poland)
Jacob Bodi 122.5 (USA)
Dimitar Savatinov 122.5 (Hungary)
John Posen 116.5 (USA)
Tomasz Ladermann 114.5 (Poland).

"Only four in the Strongman Fitness division for men and women move on to day two. The top four guys in the Strongman Fitness class (under 175 pounds) that will move on are:

Travis Lucas 69.5 (USA)
Brandon McDonald 69 (USA)
Tim Kovach 66 (USA)
Jon Alderson 64.5 (USA).

"A slight screw up on the medley by Shane Jerman of Australia bumped him out of the top four.

"Top four women (Under 150 pounds) moving on to Sunday are:

Alanna Casey 51 (USA)
Maya Winters 46 (USA)
Kim Baum 45.5 (USA)
Kirsi Jarvi 41.5 (Finland)."



###


Visit the IronMind Forum: talk strength, discuss this story. Strongman, grip, Highland Games, Olympic lifting, stones and more.

You can also follow IronMind on Twitter.