Armlifting USA: Big Debut at Philly FitExpo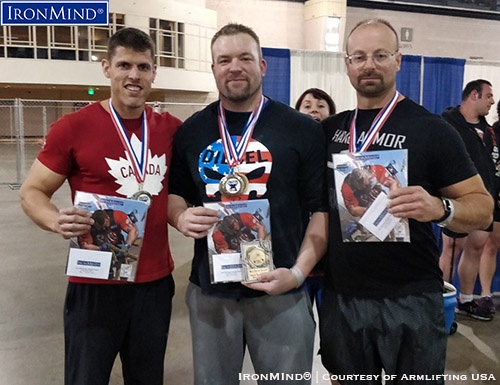 Longtime leading grip promoter and competitor Odd Haugen took a big step forward at the Philadelphia FitExpo as his organization, Armlifting USA, brought such benchmark events as the Rolling Thunder, Apollon's Axle and CoC Silver Bullet Hold to town—giving one and all a chance to see who had the mightiest mitts.

Armlifting USA springs from the original single-event Rolling Thunder grip strength competitions and the menu has expanded to include other grip strength classic events, with room on the program to introduce one or two additional events as well.

Haugen's group added bodyweight classes, encourages women to compete, and if you think this is only a young person's sport, remember that Haugen—a top competitor—is 68.

"This is going to grow BIG," Haugen told IronMind, as grip strength appeals to and is needed by everyone from CrossFitters to strongman competitors, with climbers, SWAT, OCR, Special Forces and a host of others knowing that it's fundamental to their success and in some cases, survival.

"In the overall contest, after 6 events, Jedd Johnson was the winner. Eric Roussin finished second and I finished third.  There were some great lifts.  Armlifting USA had a very successful debut on the East Coast—a good time was had by all!," Riccardo Magni reported to IronMind.

"Odd and I ran a seminar that was very successful with lots of new people getting a hands on lesson in grip. Jedd Johnson and Lucas Raymond assisted as well," said Magni, so the seeds were planted for more growth in the grip field.

Complementing the actual competition, Crushed-To-Dust! certifications were offered, in a fun way to prove you have superior overall grip strength. Jesse Nelson and Jon "Jujimufu" Call passed muster and their names have been added to the official Crushed-To-Dust! certification list.

Please visit Armlifting USA for for full contest results and a schedule of upcoming contests, and FitExpo for coming expos featuring Armlifting USA events.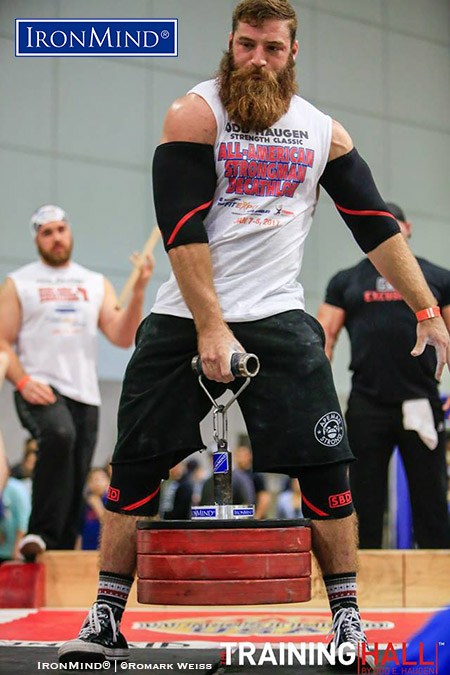 Jesse Nelson, shown on the Rolling Thunder,  successfully completed the Crushed-To-Dust! Challenge at the Armlifting USA grip contest held at the Philadelphia FitExpo. IronMind® | File photo courtesy of Romark Weiss/The Training Hall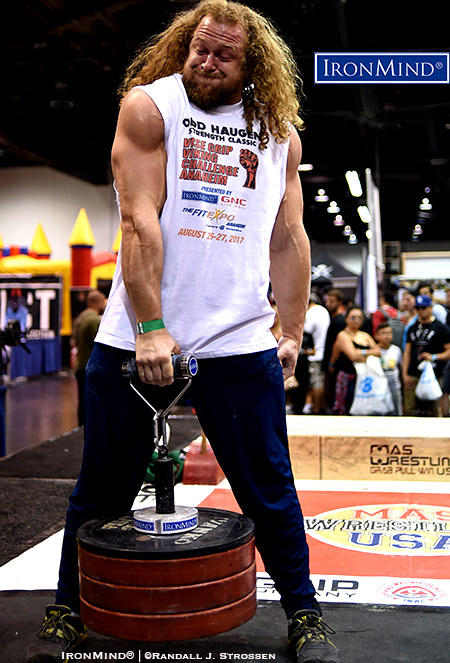 Displaying his characteristic intensity, Jon "Jujimufu" Call lays into the Rolling Thunder, one of the three elements of the Crushed-To-Dust! Challenge, an all-around test of superior grip strength, which Jujimufu mastered. IronMind® | File photo courtesy of Randall Strossen


                                                ###



You can also follow IronMind on Twitter, Instagram and on Facebook.                        



Want to talk grip, strongman, weightlifting . . . everything strength? Visit the IronMind Forum.