Armlifting: From Russia With Love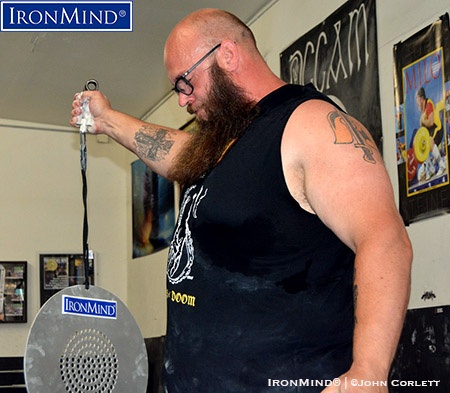 "I am very happy with the growing interest in grip strength and Armlifting in particular.  Our membership is growing fast and participation is broad across size, age and gender," Odd Haugen, CEO of Armlifting USA told IronMind.

Armlifting was born in 2010, when a Russian armwrestling promoter asked IronMind for permission to organize grip contests featuring the Rolling Thunder, dubbing the competitions Armlifting. So, armlifting is the Russian name for grip contests that began with the Rolling Thunder, and have since come to include such other grip world staples as the Apollon's Axle Double Overhand Deadlift and CoC Silver Bullet Hold.

And while there originally was one armlifting federation in Russia, there are now, reportedly, seven, so this might sound reminiscent of how powerlifting splintered and imploded, but it might also be a case of a sport yet to fully mature.

Setting the stage for the birth of armlifting, IronMind introduced the Rolling Thunder in 1993 and in the late 1990s a guy named Odd Haugen was in touch with us, largely through, first, his participation in strongman contests and later, in his role of organizing strongman contests (while also continuing to compete).

Haugen was more than good on the Rolling Thunder and in 2000 he asked if IronMind would be interested in holding a Rolling Thunder World Championships as the kickoff event for his Beauty and the Beast Strongman contest—the setting was a Honolulu sports bar and the field included World's Strongest Man winners—as well as a walk-on or two from the bar—and the rest, as they say, is history.

Armlifting USA has pushed weight classes to increase participation and promoters can supplement the core events with additional grip challenges for added variety, so all the pieces are in place for continued growth.

A couple of weeks ago, the California Armlifting Championships at The Training Hall pulled in novices along with such well-known competitors as Julia Williams, Carl Myerscough, John Machnik, Riccardo Magni and Odd Haugen, showing the sort of growth in participation Haugen wanted to achieve.

And this past weekend, Hands of Doom at Occam Athletics was a zinger—hats off to Ben Claridad, Heather Jeppeson and all the athletes—follow this link to Mike Corlett's report and this link to the scoresheet.

Occam Athletics, if you're not familiar with it, is an Olympic-style weightlifting gym that smacks of what weightlifting gyms looked like before weightlifting went viral—this is the next generation of weightlifting gyms, but rather than coming off as a wannabe, it reeks of authenticity, and a quick glance at Corlett's report and the scoresheet will show that weightlifting and armlifting go hand-in-hand, so what happened this weekend at Occam Athletics could be replicated at weightlifting gyms across the country and around the world.

                                               ###



You can also follow IronMind on Twitter, Instagram and on Facebook.                        



Want to talk grip, strongman, weightlifting . . . everything strength? Visit the IronMind Forum.