Arild Haugen: The Emperor of Stones Talks Strongman and Boxing
Now trimmed down to 124 kg and saying that he "feels like a butterfly," Arild Haugen seems likely to sting like a bee when he makes his boxing debut.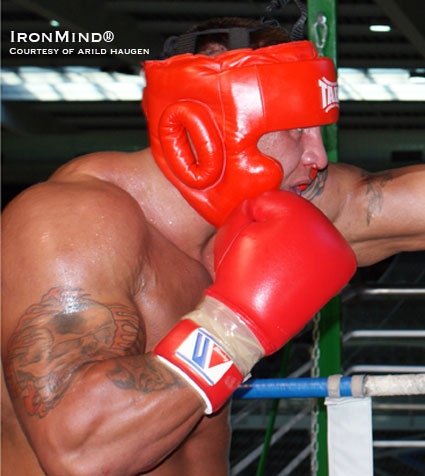 .
He's a proven talent and hot property in the strongman world, but now Arild Haugen is turning his talents to boxing. IronMind® | Photo courtesy of Arild Haugen.

He was the strongman billed as Mariusz Pudzianowski's most-likely successor, capable of such devastating performances on the stones that he vaulted over the title of King and went straight to the ranks of Emperor - Arild Haugen has the physical package and the personality to take him far in the strongman world, but what was missing was the financial incentive and reward system, so he switched to boxing.

Talking boxing, Arild told IronMind®, "I have improved so much, but there is still a long way to go. My first match will probably be in September or October, in Spain."

"I miss all the guys in strongman . . . The finest thing about strongman is all the good relationships you can build up all over the world and also you get to travel a lot if you want. But before I would consider to go back to the sport there has to come some money in it. I will not sacrifice so much for so little. What you do in life goes in eternity!"

"I heard the 'Dominator' [Mariusz Pudzianowski] is also leaving strongman. I don't know why, but he will probably make more money in MMA. And I also think he probably needs some new excitement in his life. He has won everything and is still quite young and can do well in MMA, too, I think. But this is a BIG loss for the strongman sport because he was the front head of strongman in the world. He had an attitude, either you liked him or hated him; he was there, and was unstoppable. He also had a great look and competed a lot over many years so people will miss him big time. There are no one else who can fill his shoes at this time."

"Strongman is show biz, almost like boxing. You have to walk, talk and act different to make yourself interesting. Like Mohammed Ali said, '20,000 people will come to see me win, and 20,000 to see me lose.'

"I wish all the guys the best of luck at this year's World's Strongest Man," Arild Haugen told IronMind®. "Watch out for the new Norway's Strongest Man Richard Skog. I will be training with him in the next couple of days and he looks great."