Antonos Abrutis Wins WSF World Cup Riga
WSF World Cup kicked off its 2011–2012 strongman season with a contest in Riga, Latvia and the competition was marked by close competition and strong support from the enthusiastic crowd.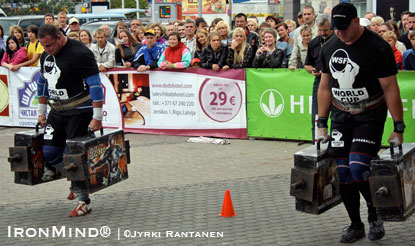 "Antonos Abretis (left) and Jarno Jokinen (right) were neck to neck in Farmer's Walk," Jyrki Rantanen reported.  IronMind® | ©Jyrki Rantanen.


Antonus Abrutis Wins WSF World Cup Riga
by Jyrki Rantanen
The WSF World Cup tour 2011–2012 opened on Saturday in Latvia, which was celebrating its 810-year history with a great party around the city, including concerts, dance shows, stunt flights and, of course, strongman competition.



The World Cup opener was held in Riga's central station square and with nice weather it gathered around 2000 spectators (permanent ones, at least 10 000 people were walking by the scene due its central location).  From the beginning it was clear that the it will be extra tight race between some top competitors, and in the final results there were three competitors within just two points total margin.

Team Ukraine with Aleksandr Lashin and Sergey Konyushok started the battle with the others with event-winning performances in the press medley, where Lashin was the only one to press the last object (a 150-kg log with very thick diameter), after mastering the 72-kg dumbbell, 120-kg axle and 130-kg log.  Unfortunately these gladiators had bad luck this time due to Lashin having problems with the Conan´s wheel and Konyushok injured his biceps in the medley with the tire flip.  As a lighter competitor, Sergey was a crowd favorite and the support pushed him.  In the final rankings, the Ukrainians ended up 4th and 5th.

The top three was neck to neck right from the start and when looking at the results it was clear that just about any of them had the chance to be king of the day, but Lady Luck said that in this competition it was meant that the Lithuanian veteran Antonos Abrutis was the man with the title.  Tarmo Mitt was shining better in each event and was just two seconds away from the victory–the last event was the manhood stone with 170 kg, where Tarmo needed 10 reps to edge out Abrutis.  Tarmo was the man with the right attitude and did all reps, but the sharp officials blew the whistle for the 90-second time limit just before the last rep was completed.
For reigning Strongest Man in Finland Jarno Jokinen the fortune was even nastier–the overall win was just under 0.1 sec. away in farmers walk (140-kg/40 meters) along with medley (200-kg duck walk and tire flip with 320 kg).
| | | |
| --- | --- | --- |
| 1. | Antonos Abrutis (Lithuania) | 37.5 |
| 2. | Tarmo Mitt (Estonia) | 36.0 |
| 3. | Jarno Jokinen (Finland) | 35.5 |
| 4. | Aleksandr Lashin (Ukraine) | 32.5 |
| 5. | Sergey Konyushok (Ukraine) | 23.5 |
| 6. | Rolands Gulbis (Latvia) | 21.5 |
| 7. | Evgenij Scherbakov (Latvia) | 16.5 |
| 8. | Sergej Mararenko (Belarus) | 11.0 |
| 9. | Misha Alenevsky (Latvia) | 5.0 |
At the end of the day I must say the competition went thrrough smoothly in three hours time even though there were dance shows, singing, etc. after each event.  Also in this TV/internet-oriented world it was nice to see that the spectators were rewarded with a good entertainment program along with good visibility to the venue from three different directions.  And talking about TV, the whole competition was filmed for WSF future broadcastings and Latvian national TV was there also doing some clips and interviews.  In the awards ceremony, around 100 children were invited to release balloons also.

For more photos and youtube link please visit about: http://www.suomenvahvinmies.fi/fi/Tiedotteet+Bulletins.html
                                                          

                            ###

The IronMind Forum: discuss this article, talk strength, get help with your training. 

You can also follow IronMind on Twitter.