Andrei Rybakou Snatches World Record
Wladyslawowo, Poland - Andrei Rybakou (Belarus) snatched 186 kg in the 85-kg category at the Europeans Championships today - good for a new World and European record.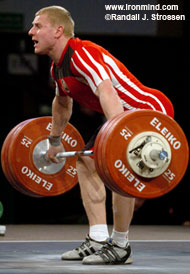 On its way: 85-kg competitor Andrei Rybakou (Belarus) launches 186 kg, good for a new world record in the snatch. IronMind® | Randall J. Strossen, Ph.D. photo.

Early on, things were looking pretty grim in terms of the snatching in this class - there was a huge procession of missed lifts, including half a dozen at 170 kg, but with that weight locking up the silver medal in the snatch and everyone else done, Andrei Rybakou rolled out the big guns on deck and he blasted through 180 kg on his opener, missed 186 on his sccond attempt when an adjustment in the bottom position failed to save the lift, and then he took aim at the world record once more and this time, there was no doubt about it.

Even those who were counting on him to do big things in the snatch didn't look to Rybakou to do much in the clean and jerk, but he surprised a lot of people by rattling off three nice lifts: 195, 200 and 206. This was a tremendous performance for the guy who sometimes only cleaned and jerked about ten kilos more than he snatched and he was rewarded for his efforts with a new European record in the total. If he keeps snatching like this and makes a little more progress in the clean and jerk, Andrei Rybakou could be the man to beat at this year's World Weightlifting Championships.