Andreas Altmann Wins Germany's Strongest Man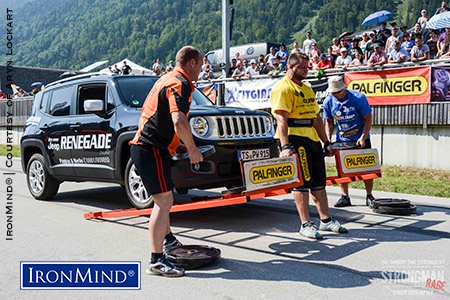 Andreas Altmann dominated the 2015 Germany's Strongest Man contest—Aryn Lockhart called the action for IronMind.



Germany's Strongest Man

by Aryn Lockhart/Strongman Rage

Andreas Altmann is the strongest man of Germany. On Sunday during the International Pro-League competition held in Ruhpolding, Germany, Altmann took the win for the day and became the overall German champion. 




Sixteen athletes battled brutal heat for six events. The packed crowd braved temperatures above 35 degrees celsius to cheer on these amazing feats of strength. The events included a 145kg Viking Press, 7,5 ton Truck Pull, a 350kg Tire Flip, Farmer's Walk with 125kg for 50m, Car Deadlift with increasing weight, and finally a Loading Event.

The German Federation for Strength Athletes (GFSA), run by Heinz Ollesch, uses a scoring system similar to the Strongman Champions League, accumulating points for competitions throughout the season. There were three Pro-League competitions with Altmann winning two of them.

Altmann had an impressive showing during his first international Strongman Champions League in April at the FIBO with a strong sixth place finish as the top German. He has amazing back strength finishing the car deadlift with an impressive 440kg. Altmann will be competing again during Strongman Champions League in Split, Croatia on 29-30 July.

"Andreas dominated today," stated the Heinz Ollesch, who won this title an amazing 12 times before retiring from competition. "He finished first in four of the six events. I'm looking forward to seeing how he does in Croatia among the world's strongest."

                                                                     ###



Follow IronMind on Twitter and on Facebook.


Want to talk strength? Visit the IronMind Forum: Strongman, grip, Highland Games, Olympic lifting, stones and more.