Amy Wattles: World Record on the Apollon's Axle
Even if she did it the hard way—as in two singles when one would have sufficed—Amy Wattles broke her own world record on Apollon's Axle Double Overhand Deadlift, a staple of the grip-strength world, at the IronMind Record Breakers yesterday.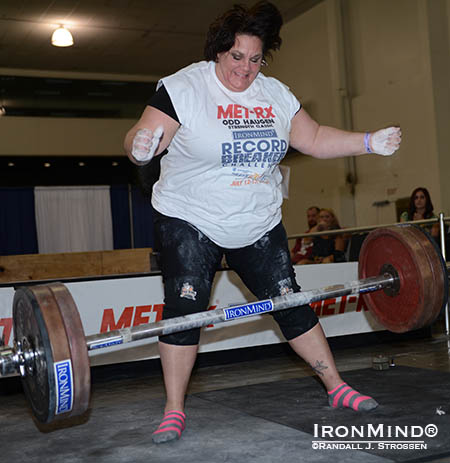 In her excitement at easily pulling this 131-kg Apollon's Axle Double Overhand Deadlift, Amy Wattles dropped the bar after completing the lift, and so got it turned down and had to repeat. 
Not a problem, though, as she did it again, and restamped her name on one of the most prestigious world records in the grip strength world. IronMind® | Randall J. Strossen photo


Wattles came into the contest holding the women's world record at 130 kg, and she pulled a solid 131 kg to break that record. Unfortunately, after standing up, Wattles dropped the bar, and thus had the lift turned down.

"I never drop the bar—I guess I was just so excited," Wattles said.

Not a problem, though, when you're this strong: Wattles walked up and did it again, this time lowering the bar with extra care for a good lift and a new Apollon's Axle Double Overhand Deadlift world record.

Wattles also came within a blink of breaking her world record on the Captains of Crush (CoC) Silver Bullet as she hit just over 45 seconds (her world record stands at 45.42 seconds).

On the men's side, standout performances included Odd Haugen's 120-kg success on the Rolling Thunder, Jon Eklund's 44.36 time on the CoC Silver Bullet, and Odd Haugen's 210-kg Apollon's Axle Double Overhand deadlift. Also, Danielle Curry showed that with a little more training, she is ready to be a factor at the highest levels in the world of women's grip-strength competitions.

Watch for a full report on the IronMind Record Breaker's, part of the Odd Haugen Strength Classic at the NorCal FitExpo, in the next issue of MILO.



###



Want to talk strength? Join the IronMind Forum.

You can also follow IronMind on Twitter and on Facebook.