America's Strongest Man/World's Strongest Man
American Strongman Corporation's Dione Wessels told IronMind, "Outside of being 'The World's Strongest Man,' this is the title that every strongman athlete in America wants: 'America's Strongest Man!'"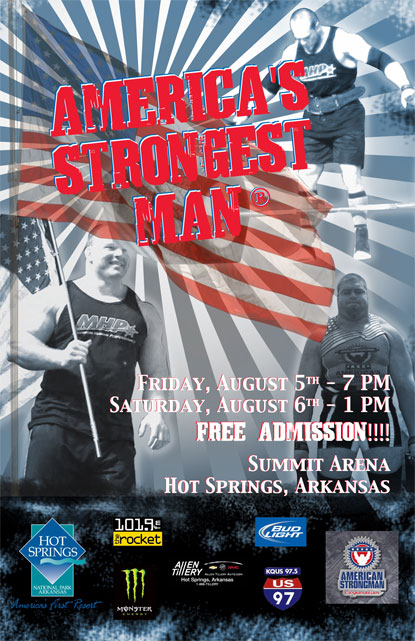 America's Strongest Man: bigger and better than ever, and the strongman title that's one step away from World's Strongest Man. IronMind® | Courtesy of ASC.



Wessels said, "This is the second year in Arkansas and with this being a stand alone event, last year there was a fan base of 3000 fans and only with one week of media advertising. This year the advertising started late last month, so we are expecting double the attendance from last year.

"The prize money has increased by $5,000 with the top ten athletes being paid on the spot. I cannot guarantee world record numbers, but I can guarantee a lot of fans that love the sport and the top ten athletes will be paid at the conclusion of the event and no IOU's!

"Our numbers for confirmed athletes are at 20 athletes barring any injuries between now and then. This also almost doubles the number of athletes from last year. There will be a meet and greet prior to the show and at the end of the show along with some fun stuff in between that involves the fans winning some American Strongman swag.

"The event will be exciting from start to finish as we have a historical event, the Ironmind Axle clean and press Max event for a record. I am not sure if anyone will break Derek's record, but there are a number of guys that want to give it a try. We will also be introducing a new event that one of our NAS promoters (Ashley Wirt of Texas) came up with. It is a push-pull medley. the athletes will press a 200# Slater dumbbell, pull a 675# IronMind Apollon's Axle deadlift, then a 320# IronMind Axle clean and press followed by a 715# standard deadlift and ending with a 320# log clean and press. Our equipment sponsor Bigg Dogg Strongg has fabricated some new equipment pieces as well such as the keg over the bar throw and the truck wheelbarrow race. Fans will also get to see some traditional events such as the car hold for time and Atlas stone load.

Winning this contest is a big deal in the strongman world, Wessels explained: "Just like the name, it states that you are the strongest in America, one of the greatest nations on earth. After eight events in two days, someone will walk away with the title," a title that as Wessels said, is only one step away from World's Strongest Man.

###

The IronMind Forum: discuss this article, talk strength, get help with your training.

You can also follow IronMind on Twitter.