America's Strongest Man® Set for West Virginia
American Strongman Corporation (ASC) has officially announced that the 2009 America's Strongest Man® (ASM) contest will be held July 25 - 26 in conjunction with the Mountain Fest in Morgantown, West Virginia, and it promises to add a new dimension to strongman competitions by building on the "Live" concept that ASC has developed.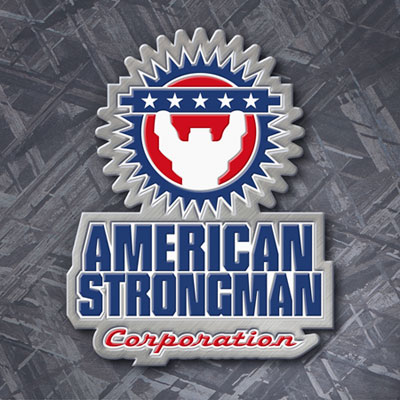 ASC has announced its 2009 America's Strongest Man® contest, where it will blend muscle, music and motorcycles. IronMind® | Logo courtesy of Dione Wessels.


To put this contest in context, let's start by talking about North American Strongman (NAS).

As the well-established amateur strongman federation, "NAS is the foundation of strongman in America," explained NAS vice president Dione Wessels, and "in order for an athlete to become an ASC athlete, they must first compete as an amateur." Open to all, "NAS welcomes anyone to give strongman a try," said Wessels. And if you do well in NAS, you can move up the ladder, graduating to professional contest.

"There are two ways for an athlete to get his pro card - either by winning a Platinum Plus amateur contest, or by winning nationals," said Wessels. "There are three Platinum Plus contests per year that an amateur athlete can compete in and the first one this year is in April in Orlando, Florida. [The next one is in] June in San Diego, California, and the final one is in August in Dallas, Texas. The contest in California is also the wildcard show whereas the winner not only gets his pro card, but also an automatic invite to ASM. The other way for an athlete to become pro is by winning the NAS National Championships which is held every year in the fall.

"Since the qualifying system has been in place, we have seen great athletes like Derek Poundstone, Van Hatfield, Travis Ortmayer and many many more emerge," said Wessels.

"The 'Live' events provide fans with live entertainment and gives the athletes a chance to create a fan base not only in their home town, but also across the country," said Wessels, and that's the context for the upcoming America's Strongest Man® contest. "All ASC contests that have been held this year were qualifiers. All the athletes have to do is compete in order to qualify. Where they placed in the contests does not matter," said Wessels.

And while the purse has not yet been announced, Wessels is optimistic: "Our marketing agent is currently negotiating with Harley Davidson and other non-fitness related companies, and it looks as though a minimum of the top ten athletes will be paid. American Strongman will also be working with Steve Slater, Williams Strength, and IronMind® on event details."

For full details, please check the official MountainFest and ASC websites.