American Strongman "Live" 2009 Media Tour in Tulsa
Referring to the upcoming ASC contest in Tulsa, ASC president Dione Wessels told IronMind®, "This is part three of the American Strongman 'Live' events (with a total of 10 events) in which 6 of the events will lead up to the America's Strongest Man® contest."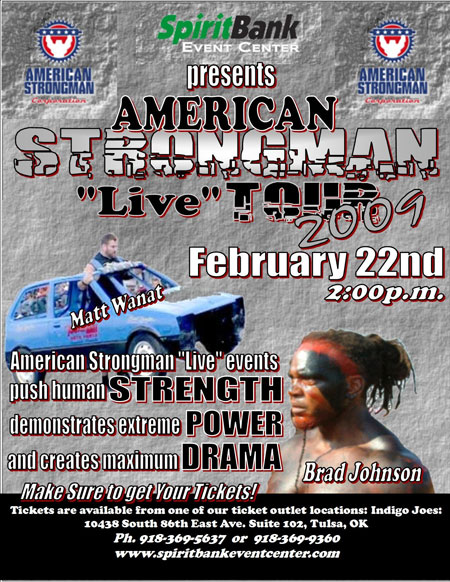 American Strongman "Live" is coming to Tulsa. IronMind® | Artwork courtesy of Dione Wessels.

"The American Strongman 'Live' 2009 Tour kicked off a busy three-week media blitz in Tulsa, Oklahoma in preparation for the February 22 Spirit Bank Event Center contest," according to a prepared statement. "Radio advertisements started running this week on Z104.5 the Edge — KMYZ and ASC Pro Brad Johnson (winner of Discovery channel's 'Last One Standing') will make a studio radio appearance on Wednesday, February 11 at 8:15 a.m. with Greg and Chuck in the morning. ASC vice president Mike Johnston will visit with Greg and Chuck along with Brad and Matt Wanat on Thursday, February 19 at 8:15 a.m . On-air personality 'Lunch Box' will also be in the studio to discuss his participation as a guest athlete in the upcoming ASC 'Live' event.

"Mike will also host a halftime show with several ASC Pros at the Spirit Bank Event Center during halftime at the Tulsa 66ers game on Saturday, February 21. 'Lunch Box' will do a live radio remote from the Spirit Bank Event Center on the day of the show.

"We are very excited about the advanced promotions," ASC President Dione Wessels said. "The ASC athletes receive a portion of the ticket sales, so as our fan base grows so do the potential earnings.

"The contest kickoff time will be at 2 p.m. on the 22nd of February. Tickets can be purchased in advance or at the door. For more information, please visit the American Strongman website or call 918-369-9360. To purchase tickets in advance, please visit one of our ticket locations Indigo Joe's 10438 South 86th East Ave. Suite 102, Tulsa, OK; 918-369-5637."