Alexey Tyukalov: California Update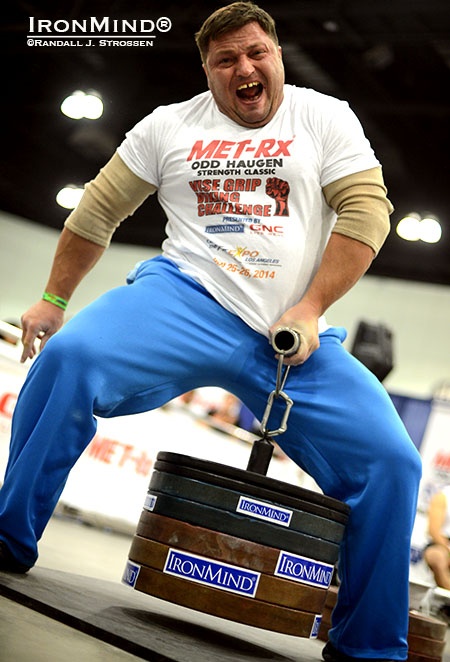 Alexey "Tank" Tyukalov, one of the most recognized names and accomplished athletes in the world of grip strength, recently celebrated his 10-year anniversary competing in California grip contests as he handily (ha ha) won the grip competition at the 2023 LA FitExpo, launching the year with another major victory to his credit.
"The LA FitExpo one is the oldest and biggest tournaments and they have always been using tested and reliable equipment. For past 10 years the LA Fit Expo has been THE place for the best athletes to meet and compete in great atmosphere," Tyukalov told IronMind. Tyukalov has won the title each year, and looks forward to adding another decade to this legacy.
"It is always interesting to test your strength, meet new participants and plunge into the unique atmosphere of the tournament. This year, the weather intervened: it was raining heavily and there was high humidity, which does not contribute to a powerful grip. However, I made 3 out of 4 possible attempts on implements, saving my strength and finished the tournament with the results: Apollon's Axle 210 kg, Rolling Thunder 110 kg, Saxon Bar 110 kg. This was enough for an absolute victory."
Tyukalov told IronMind, "I don't have specific training philosophy, but I believe in following my gut feelings and instincts. I use the same practices and equipment all the time. My training is traditional and between trainings, I do long walks in the forest, not some fancy meditation or yoga. I don't have any bad habits and I don't smoke or drink alcohol. Lots of food and sleep is my best advice for recovery. I don't follow any other people's advice on how to practice and I don't keep a diary of training. Old dogs don't learn new tricks."
Obviously, his system works: after initially hitting IronMind radar when he certified on the Captains of Crush No. 3 gripper, Alexey Tyukalov has gone to continue making his mark on the grip strength world as his accomplishments include being a former world record holder on the CoC Silver Bullet Hold and the Rolling Thunder max weight pull-up.
Tyukalov is the current world record holder on the Rolling Thunder deadlift, one of the most coveted world records in the grip strength world and it represents the realization of Tyukalov's goal set early in his grip strength career.
It is better not to listen to others saying something is not possible," Tyukalov advised: "When you don't know what is possible and what is not, you can find out yourself. I have seen this happen several times.
"I have trained different types of sports since a little kid. In my teens years I did boxing and my body still remembers it. It's like riding a bike and it has helped me to adapt to other sports, too. I started armlifting and grip sports in 2011.
"I was born in Russia, but live the past 25 years in Finland. I have lived some periods also the Middle East, the Balkans and East South Asia.
"Armlifting is for me a hobby not a profession, so I try to do it in maximum. I enjoy competing. I have taken part in some online competitions but prefer old fashioned in-face competitions where the results are under everyone´s eyes and the equipment is same for all. I hope to stay healthy and continue being strong for years to come. I am looking forward to competing in any country where the strongest athletes [are].
Tyukalov is 44 years old, 182 cm tall and weighs 125 kg. He owns a small business and told IronMind, "Behind every successful man is a beautiful and smart woman, and I am not an exception to the rule!"
###


You can also follow IronMind on Twitter, Instagram and on Facebook.
Want to talk grip, strongman, weightlifting . . . everything strength? Visit the IronMind Forum.