Alex Graves Certifies on the IronMind Red Nail
He's been "training for strength and health for approximately 8 years . . . grip for the past 6 -7 years . . . and didn't start bending steel until 2 years ago," but Alex Graves put it all together and has just been certified on the IronMind Red Nail, a universal benchmark in the world of short steel bending.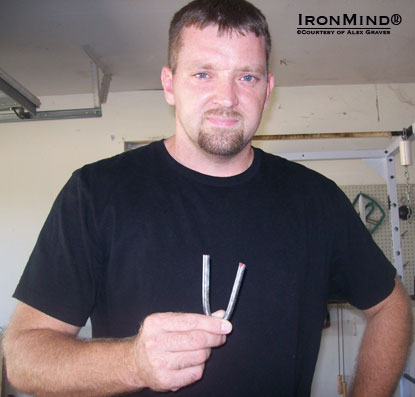 Alex Graves has just been certified on the IronMind Red Nail, adding to the list of Lone Star State residents who have distinguished themselves in the world of lower arm strength. IronMind® | Courtesy of Alex Graves.

Alex is 32 years old, stands 5' 10" tall and weighs 190 lb.; and in addition to his prowess bending short, tough pieces of steel, he's also lifted a Blob, closed a Captains of Crush No. 3 gripper starting with the handles parallel, and pressed an 80-lb. kettlebell with the bottom facing up.

"I credit a large part of my success in developing my grip to the guidance I received from Eric Milfeld, Casey Emery and Paul Knight," Alex said.

IronMind would like to extend its gratitude to Daniel Stanfield for serving as Alex's referee on his official attempt, and to Alex: Welcome to the Red Nail Roster!
###

The IronMind Forum: discuss this article, talk strength, get help with your training.

You can also follow IronMind on Twitter.