Aleksey Vydrin Certifies on the Red Nail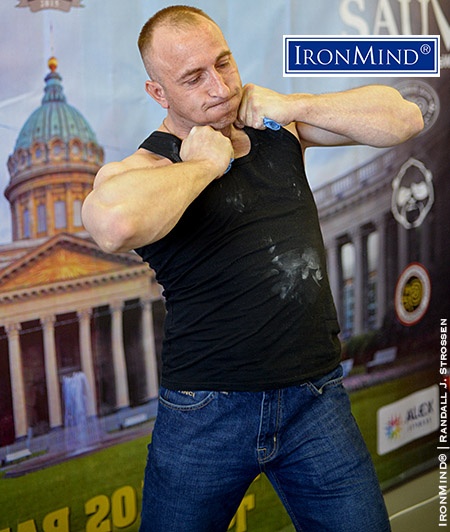 Benders were in full force at the 2015 WAA Armlifting World Championships in St. Petersburg, Russia over the weekend and setting the stage for what was to come, Aleksey Vydrin certified on the IronMind Red Nail.

Vydrin's success was never in doubt and he finished off his official bend in less than 20 seconds, pretty impressive for a man who said he learned about steel bending on the Internet and has been pursuing the specialty for about 1-1/2 years—training twice a week. His future goals include bending the IronMind Gold Nail and closing the Captains of Crush No. 3 gripper.

"I want to thank my referee Dmitry Sukhovarova for judging. And thank Randall J. Strossen for his presence at the World Cup," Vydrin told IronMind.

Strossen echoed his appreciation to Dmitry Sukhovarova for refereeing and said it was his great honor and pleasure to attend this competition and to meet so many men and women in Russia who are passionate about grip strength and steel bending.

Congratulations, Dmitry—your name has been added to the Red Nail Roster!

                                               ###


You can also follow IronMind on Twitter and on Facebook.                        



Want to talk strength?  Join the IronMind Forum.