Alaska Highland Games: Field Records Fall
Francis Brebner has filed this report on the Alaska Highland Games, what he calls, "a smashing day."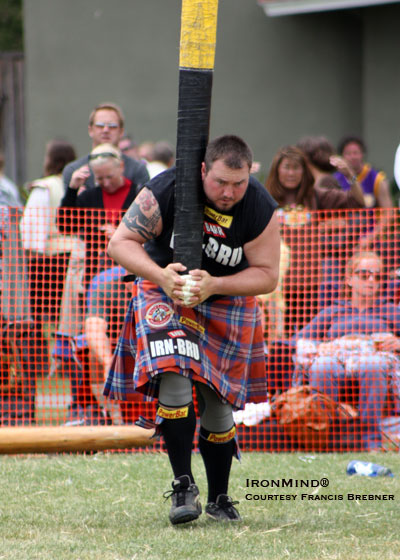 Larry Brock turned in another impressive performance at the Alaska Highland Games. IronMind® | Photo courtesy of Francis Brebner.


Alaska Highland Games: Field Records Fall by Francis Brebner

It was a smashing day at the Alaska Highland Games this weekend for Larry Brock, Harrison Bailey III, and Andrew Hobson, with a packed crowd in record attendance. Brock, Bailey, Hobson, and James Parman shared top billing.

In the opening event, the 20-lb. stone, Brock won with a distance 45' 9", with Bailey close behind with 44' 11" and the big Texan Parman in third with 42' 4".

In the 56-lb. weight for distance, the ground record had been set by Bailey in 2006 with a distance of 42' 6", and it was Bailey who stopped Brock in his winning streak in the weight for distance this season, creating a new field record of 44' 6". Brock had to settle for 40' 11" for second; Hobson was in third with 39' 7".

In the 28-lb. weight for distance, the record was also held by Bailey, a distance of 81' 7" set in 2006. Brock, however, got sweet revenge on Bailey with a world-class throw of 87' 8" for a new field record. Bailey was second with 81' 3" and Hobson third with 76' 4".

Brock's record-breaking performances did not stop there, as he thrilled the crowds with a worthy performance in the 22-lb. hammer, setting another field record with 119' 8"; this broke his old record by over 5', which Brock had set in 2005. In second was Bailey with 111' 3", and in third, Hobson with 107' 3".

These two field records were a clear sign that Brock was on form as in the next event, the 16-lb. hammer, Brock achieved a throw of 143' 6" for yet another new field record, which smashed Bailey's old record of 138' 2" set in 2006. Bailey had to settle for second with 136' 5", and Hobson third with 129' 4".

In the 56-lb. weight for height, however, Hobson, using the traditional standing method of throwing, set a new field record of 15' 6.5" for his first win, with a "very tough weight," Hobson added, breaking the field record previously held by James Parman from 2004. Brock came in second with 15', and Parman third with 14'.

The last event was the caber, at 19' 7" and 127 lb. Brock, with two 12:00 o'clock tosses, took the win over Bailey and Hobson, each having one 12:00 o'clock toss, but Bailey going ahead of Hobson on countback.

The top three were Brock first, Bailey second, and Hobson third.

Brock said, "This was a good Games for me. I am very happy with my performance and setting three field records - this is where I want to be with my throwing just before Sean Betz and I leave on our six-week tour of Scotland and Ireland next week, where I am hoping to establish some records in the motherland of Highland Games while I am there. I just love competing in Scotland."