Doha - It's what every lifter and lifting fan likes most: One attempt left, and if it's a good lift, it earns the gold medal.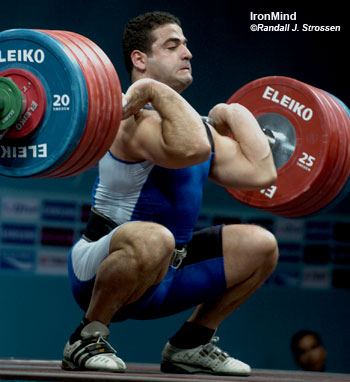 Ahed Joughili hits the bottom with 222 kg - he was just a few seconds away from becoming the Asian Games champion in the 105-kg category earlier today. IronMind® | Randall J. Strossen, Ph.D. photo.
That's how things ended up in the 105-kg category at the Asian Games today: Ahead Joughili (Syria) had the last attempt of the class and he trailed Mahammad Aljuaifri (Iraq) by two kilos, plus he was heavier.

The snatches had ended with Kim Wha Seung (Korea) leading with 176; both Aljuaifri and Bakhyt Akhmetov (Kazakhstan) had made 175 and Joughili had made 170.

Kim got off to a shaky start in the clean and jerks when he couldn't stand up with his opener, 200 kg, came back to make it on his second attempt, but then missed the jerk with 205 on his third. Joughili opened with 212, for a good lift and gold medal position, but wait, because Aljuaifri opened with 213 to overtake him.

Enter Akhmetov, who had opened with a good 205 and made a good lift with 213 on his second, to move into first place. Back to Aljuaifri - 216 on his second attempt, to move from second-place position back up to first-place position.

It's rough being at the top of the heap because you become the target and Akhmetov had Aljuaifri in his sights: He took 217 on his third, going for the gold, but he missed the jerk. Joughili had been on the sidelines for all of this, but now it was time for his second attempt, 219, and when he made it, it put him in silver medal position. Back to Aljuaifri who took 220 in an effort to keep his Syrian competitor at bay, but after cleaning the weight, he lost the bar as he was adjusting it for the jerk. One left: Joughili, being heavier, needed three kilos to overtake Aljuaifri, so 222 went on the bar and as if the guy didn't have enough pressure on him, when he was chalking up, his coach waved him back down, obviously thinking that there was a mistake in the scoreboard - which there wasn't. They exchanged a couple of sentences and then Joughili went back up, but he clearly was a little uncertain about whether or not he was supposed to be lifting, but he shook it off, attacked the bar, made the lift and now he's the Asian Games champion. Joughili finished with 392 kg, Aljuaifri with 391 and Akhmetov with 388.