Adriane Blewitt and Sebastian Wenta Win Highlander Championships
Douglas Edmunds' World Highlander Federation held its world championships this weekend, with Adriane Blewitt and Sebastian Wenta turning in dominating performances.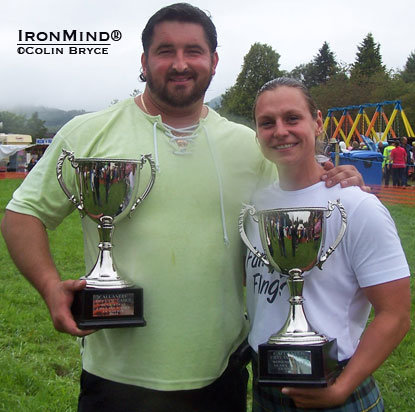 The top highlanders in the world: Poland's Sebastian Wenta (left) and USA's Adriane Blewitt. IronMind® | Colin Bryce photo.


Callander's 25th Anniversary Goes Off in Style
By Colin Bryce

The World Highlander Federation (WHF) held its Women's World Championships at the 25th Anniversary of the Callander Highland Games over the weekend, in Callander, Scotland. The two days were played out to an impressive crowd of 15,000 fans and excited tourists. The other major title on the line was the WHF's Women's World Caber Tossing Championships. The line-up was fiercely packed with young Europeans looking to beat the current world champion, Adriane Blewitt from Ohio, USA. Adriane came into the contest as an overwhelming favorite, having been so dominant on the women's scene recently. The event also ran alongside the men's championships, which included such highlander stars as Sebastian Wenta, Gregor Edmunds and Lucasz Wenta, with an appearance on Sunday from Mike Pockoski.

In the women's competition, Blewitt certainly didn't disappoint. Over the two days she won six of the eight events. The two she lost she still found second place. The two events that didn't go the American's way were the 14-lb. weight-for-distance, which was won by Great Britain discus thrower Shaunagh Brown of London, and the 28-lb. weight-for-height, in which Blewitt was bettered by the impressive figure of Nina Geria of Ukraine. The 20-year-old Ukraine's Strongest Woman cut a very impressive figure at around 1.88 m and 110 kg. Geria managed 16' 6" in her first Highland Games weight-for-height contest. She also did one of the most entertaining pieces of Highland Games showmanship I have seen in my 35-years around the Games. We invited out the "local heroes" to lift up a 110-kg Atlas stone onto a whisky barrel. Brave man after local hardman made a good attempt but none could budge it. In the end the whiskey on offer appeared safe. That was until Geria strode over and asked if she could have a go. The crowd roared with delight; she didn't just put it on once—but for reps! A few local tough guys walked away with rather red faces.

In the caber on Saturday it was a draw between Geria and Blewitt. They were the only two to make a good toss. On Sunday, during the World Caber Tossing Championships, judged by none other than Scottish Highland Games legend Grant Anderson, again it was just Geria and Blewitt who managed the feat, this time with a caber almost 16' long. It came down to a perfect 12:00 toss from the American to just better the Ukrainian upstart by a mere 1 minute on Mr Anderson's impeccable judgment.

In the men's, it was a great weekend for veteran S. Wenta of Poland. He won fairly comfortably after injuries to top throwers Edmunds and Dominic Zielinski. The whole affair was overseen by Dr. Douglas Edmunds, who deserves more than a pat on the back for creating the Games and seeing it through a quarter of a century.

The final scores for the top four women ran like this:
| | | |
| --- | --- | --- |
| 1. | A. Blewitt | 68.5 |
| 2. | N. Geria | 60.0 |
| 3. | S. Brown | 53.5 |
| 4. | S. Petursdottir | 37.5 |

The final scores for the top four men ran like this:

| | | |
| --- | --- | --- |
| 1. | S. Wenta | 74.0 |
| 2. | H. Lolkema | 61.0 |
| 3. | L. Coulthard | 58.5 |
| 4. | L. Wenta | 58.0 |
N.B.: Pockoski won the second day on points, but missed the Saturday competition.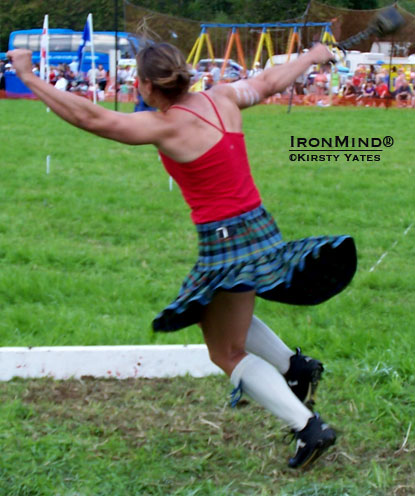 Highland world champion Adriane Blewit on the 14-lb. weight for distance. IronMind® | Kirsty Yates photo.


###

The IronMind Forum: discuss this article, talk strength, get help with your training.

You can also follow IronMind on Twitter.