Adriane Blewitt: First Woman to Certify on the Captains of Crush No. 2 Gripper
She's a star on the women's Highland Games circuit, will be trying to make the 2012 U.S. Olympic team as a shot putter, and now Adriane Blewitt has just become the first women in the world to officially close the No. 2 Captains of Crush Gripper.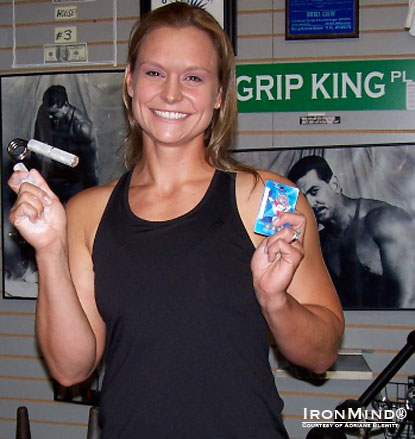 With no less than Richard Sorin, the first man certified on the No. 3 Captains of Crush Gripper, serving as her referee, Adriane Blewitt claimed new territory in the world of grip strength as she became the first women to officially close the No. 2 Captains of Crush Gripper. IronMind® | Courtesy of Adriane Blewitt.


"In a room full of strong, strong people, Adriane closed the [Captains of Crush] #2," Richard Sorin reported to IronMind, "and afterward[she] came within a half inch on a brand new 2.5, in a perfect first try, official close.

"World record holder Donnie Thompson (3000-lb. powerlifting total) and Rich Williams, a certified #3.5 CoC, were also present closely examining and conferring as co-witnesses as to the authenticity of the feat.

"The power she exhibited was simply awesome! Thank you for providing this world-changing opportunity!," said Sorin.

At the Highland Games in Pleasanton a few weeks ago, Adriane mentioned that she had moved to South Carolina and when asked why, she explained that her fiance lived there—sounded like a pretty good reason to us. As it turns out, Adriane is engaged to Joe "House" Wilson, who is also her coach, and the happy couple are among the powerful people you will finding training at Sorinex in Irmo.

Adriane is 31 and weighs 175 pounds at 5' 10" tall and she said her "grip training started at Ashland University with her coach, Jud Logan (4X Olympian)." Adriane "earned 13 NCAA Div. II All-American awards in the throwing events, along with "seven national titles and six runner up honors collegiately." She "has been competing professionally in the shot put since 2003 and has been ranked in the U.S Top Ten for the last ten years."

As important as grip training has been to her track and field career, Adriane said "grip is crucial to the Scottish Highland Games," where she is the 2010 and 2011 Women's World Champion.

"With a successful crush on the first attempt on the No. 2, she made a good effort on a new 2.5 Mr. Sorin had in stock," Joe Wilson told IronMind. "Unsuccessful with the 2.5, Adriane plans on training to close the 2.5 soon."

Adriane kindly said she, "would like to thank Dr. Randall Strossen and IronMind for the opportunity to include women in the world of grip. Special thanks to the official referee, Richard Sorin, and Rich Williams and Donnie Thompson as back up officials," and we heard a rumor that Adriane credits her fiance and coach Joe for "teaching her everything she knows!"

Many thanks, Richard —as well as to Donnie Thompson and Rich Williams for riding shotgun—and to Adriane Blewitt, it's what you said yesterday, "Ready, Set, Close!"

Congratulations, Adriane—you're the first woman officially certified on the No. 2 Captains of Crush Gripper!

###

The IronMind Forum: discuss this article, talk strength, get help with your training.

You can also follow IronMind on Twitter.