Adam Scherr: From NAS to the Pros
"Nationals are over and all went off great," Dione Wessels reported to IronMind as North American Strongman competitor Adam Scherr earned his pro card.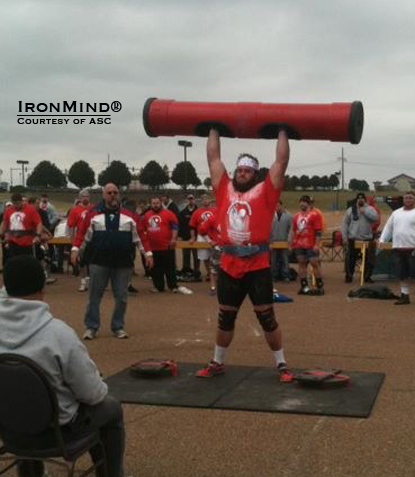 Adam Scherr on the log press. "Adam is another large human and should do fairly well as a pro strongman," Dione Wessels said. IronMind® | Courtesy of ASC.


"The weather was chilly on day one but perfect on day two. Kaz was there both days commentating and entertaining the crowd.

"The winners for the weekend were Mike Mastell from Connecticut. He won the overall lightweight class. Kristen Rhodes won America's Strongest Woman. This was her fourth time winning the title. The new heavy weight pro is Adam Scherr of North Carolina.

"Now to start planning for the Arnold," said Wessels, looking toward the 2012 season.
Keep your eye on the IronMind news column and the ASC website for updates.

###

Visit the IronMind Forum: talk strength, discuss this story. Strongman, grip, Highland Games, Olympic lifting, stones and more.

You can also follow IronMind on Twitter.